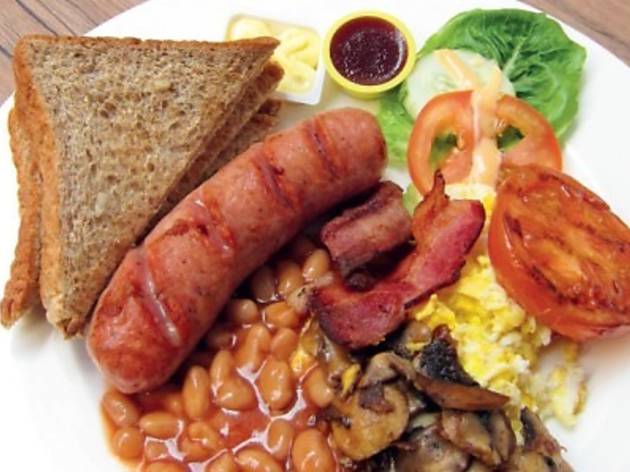 Time Out says
October 2012
In a dispirited neighbourhood mall like Plaza Damas, it's easy to smell a dying operation or a restaurant on the rise. Indicators of a potential star: a well thought-out menu and quick table turnover. Should customers keep replenishing their plates with new orders, consider that a propitious sign that food merits your attention. Anybody wanting to sneer at an inconsequential name like A Minor Place should hold their horses because the café strikes a major chord with diners seeking fuss-free, homey western dishes.
An elderly couple took over the management in April this year and refurbished the restaurant to resemble a coffee bar - one that allows you to collect your thoughts over breakfast away from the teeming traffic. The sun-kissed alfresco seating is breezy and calm but the interior – spiffed up with minimalist furniture, chalkboard menus and a wall of mirrors - bustles. A Minor Place captures a rare snapshot of KL's dining scene: Korean expatriates tackling their spicy nasi lemak, kids whetting their palates with cappuccino and suited men talking business at the weekend.
Real bacon is the linchpin for any greasy fry-up and A Minor Place cranks out a full-on breakfast that also comes with a German bratwurst which oozes melted cheese. The chef flashed the bacon in hot grill to crisp its fat while the sides - sautéed mushroom, scrambled eggs and grilled tomato - seemed to have a lingering porky aroma, like the components were cooked in the same pan. The multigrain toast was a great platform to pile on the baked beans and sliced-up bacon. But any addition of sauce would be too confrontational – you only need the sweet simplicity of Heinz to accompany the dish's spectrum of flavours.
A Minor Place obviously has an appreciation for porcine pleasures so I went the whole hog with a pork chop. Swathed in apple sauce with tangible apple chunks, my chop came with the bone in. If done well, the juices should run slightly near the bone but my meat was tough and lacked any distinct flavour for my taste buds to latch on to. The dish was also flanked by some stringy sauerkraut, mashed potatoes and grilled vegetables that offered nothing more than a gratuitous touch. Perhaps a knob of butter and a crest of golden fat in that slab of pork were all the dish needed to be a contender.
Some banana fritters with ice cream drizzled in maple syrup were splendid to counter the onset of afternoon heat. Such a simple yet satisfying combination had me feverishly working my spoon to finish the bowl. Their smooth latte made from illy coffee was prepared by the restaurant owner, not a barista, so you'll have to make do without heart squiggles or cute teddy faces.
One can't help but find the menu to be echoing trends but A Minor Place seems to have found its footing among the crowd, offering reliable breakfast, lunch and dinner courses. Though some dishes hit notes of disappointment, we don't see how this café wouldn't flourish after some fine-tuning. Kong Wai Yeng
Details