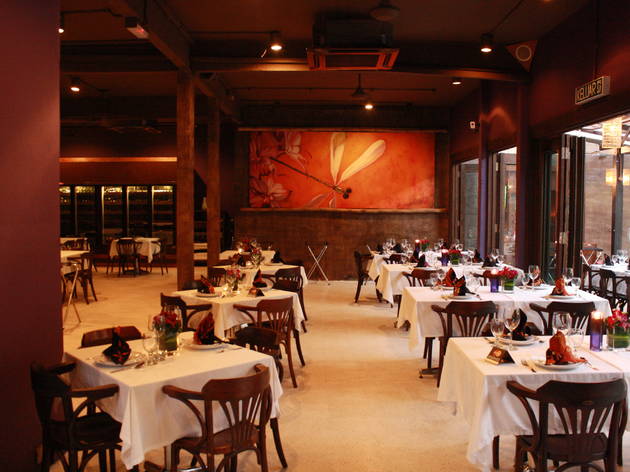 Time Out says
Friendly warning! We're working hard to be accurate. But these are unusual times, so please check that venues remain open.
January 2013

When I think about it, Malay food – or rather masakan Melayu – essentially involves comforting dishes that remind you of home, of your kampung. Traditionally they are messy, come in large portions and while undeniably tasty, I hardly consider them fancy. It's because of this belief that I've always found the term 'Malay fine dining' a little amusing to say the least. But like many things, I knew I couldn't immediately write off something without first trying it out. So when the opportunity arose to dine at Bijan, I saw this as my chance to put any scepticism to rest.
First things first – Bijan sure is fancy. Jalan Ceylon, on which the restaurant is located, may be gravelly and lacking of proper pavement for anyone who wishes to walk from Bukit Bintang, but this probably isn't a major drawback if you drive there (and by the looks of it that day, most of the diners did.) Arriving just before dark, it's the ambience that I remember the most. The soft dim lighting paints everything in a warm, orange glow, and I liked that they didn't overdo the décor with too many traditional antiques, instead opting for something more modern and minimal. On my visit, P Ramlee tunes and other Malay classics were softly playing in the background too. Atmosphere-wise, Bijan had it down to a T.
Predictably, the air of 'wow' I had upon stepping into the restaurant couldn't last the whole evening. While nothing disappointed, my dining companions and I couldn't help but feel that the dishes we ordered were satisfying but not superb. A case in point was the daging bungkus kukus. A dumpling-like parcel of minced meat wrapped in a savoury crepe, the filling was tasty and made an overall good snack, but we felt that it should have been served hotter. It had rained all day, so I was most looking forward to a hot, comforting bowl of sup ekor, but when the dish arrived it suffered the same fate as the appetiser – good but just not hot enough. What strangely became our favourite of the lot (above all that meat and fish) was vegetable dish pucuk paku goreng tahi minyak. Made up of wild fern stir-fried in chilli and caramelised coconut and topped off with shrimp, the fern was soft, sweet and buttery thanks to the caramelised coconut (or tahi minyak as it's called). It was probably the first time I ever went for seconds and thirds on a vegetable dish.
One thing was for sure, nothing was going to deter me from wanting to try Bijan's famous desserts, and in the end we ordered one for each of us. Not being a fan of durian, I made someone else get the chocolate durian cake, and this person later confirmed that it's every bit as lush and decadent as expected from the king of fruits (you don't order a durian dessert for minimal durian taste.) Having said that, it's a dessert that really should be shared with another, as it was definitely too much for one person to eat without being overwhelmed. The only small complaint was (again) on the subject of temperature; it would have been nicer if the durian was chilled rather than at room temperature. Meanwhile, the pandan pudding (much like a pandan-infused panna cotta) and gula Melaka cake made good desserts, though admittedly I preferred the latter's side helping of coconut ice cream more than the cake itself.
Has my dining experience here completely changed my mind about high end Malay restaurants? Not entirely. But there's a reason why KL needs places like Bijan – it's a chic restaurant that caters to the more upmarket crowd and tourists who want a taste of local cuisine without resorting to a grimy roadside stall. As mentioned before, the food here wasn't the best I've ever had, but then again, it was fairly good. So I'm going to go ahead and say this: If you want a proper dining experience with Malay cuisine, Bijan makes a worthy choice. Syarifah Syazana
Awards
Food Awards 2009, 2010, 2011, 2012 and 2013

Bijan was voted Best Malay in the Time Out KL Food Awards 2009, 2010, 2011, 2012 and 2013. Our food awards are 100% voted for by the people of KL. This way, we guarantee that popularity and consistent performance is rewarded.
Food 40

Food 40 is our monthly, definitive guide for where to eat in the Klang Valley. No entry into the Food 40 has provided any Time Out team member with a free meal or other incentive. If you have eaten somewhere that you think should rank amongst KL's top 40, email us and we'll check it out: editor@timeoutkl.com.
Details