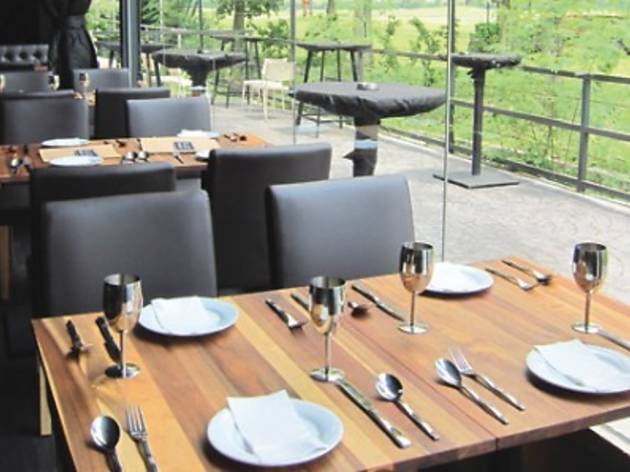 July 2013
Run by the same owners of Caffeinees next door, Black Market sounds like a shady underground business that wants to keep schtum. But this Spanish restaurant, looking like a lost Conex box drifted from a shipyard, doesn't need a secret code to get in. The only secret they're hiding behind that auto-sliding door is the chic décor – glammed up in dark leather chairs as well as heavy drapery – and a patio for cocktail receptions. The large windows overlook the Royal Selangor golf course, and in the distance, you'll find the Petronas Twin Towers wedged between wind-battered trees. It's a view you need to digest with exquisite wines, which Black Market specialises in.
Tapas are the latest rage, and Black Market's lunch menu is themed around these nibbles that could actually be full-fledged meals. But for the sake of variety, go for dinner. You know a restaurant doesn't play safe when they serve salad in a steel martini glass. The Hokkigai Yuzu Salad is plumped out with cold angel hair, cherry tomatoes and cucumber slices, before being garnished like a cocktail with two slabs of hokkigai (artic surf clams) sashimi. Bottoms up and you'll find another layer of rocket leaves tossed in citrusy yuzu dressing. The chef evidently uses ingredients with restraint because the salad boasts finesse, texture and dimension but not actual depth of flavour.
Pork appears all over the menu, but there's the jamón ibérico – the pinnacle choice of all cured meats. Better still, it's served on a pizza. The tomato base and mozzarella snuggle into the thin dough, resulting in a semi-tangy crust that crumbles on bite. Never mind the rocket leaves that add nothing much but colour; the hefty piling of dried, ruby-red cured ham dovetails nicely with a crisp Chardonnay. It's like pork on crackers, but with the king of all hams.
Purists hold that pork ribs should be enjoyed on a grill but Black Market cranks up an oven-baked version that has the soul of a dwaeji galbi. Served with a heap of mixed vegetables, the Big 'S' ribs were coated with sesame and sweet Korean barbecue sauce. However, we took a long time to cleave the ribs into mouthful-sized chunks – not because it was a huge 'S' portion, but it became boring as we were literally sawing through dry stacks of meat. It was merely a show-off dish that took away the wow from the chow. Maybe the purists were right.
Restaurants that are endowed with spectacular views often think they can get away with subpar food. Black Market wasn't bad, but it wasn't memorable either. We don't mind forking out a little bit more for the polished service, ambience and even the KL night panorama – as long as the food makes an argument for itself. Kong Wai Yeng
Venue name:
Black Market
Contact:
Address:
16 Jalan Kampung Pandan
Kuala Lumpur