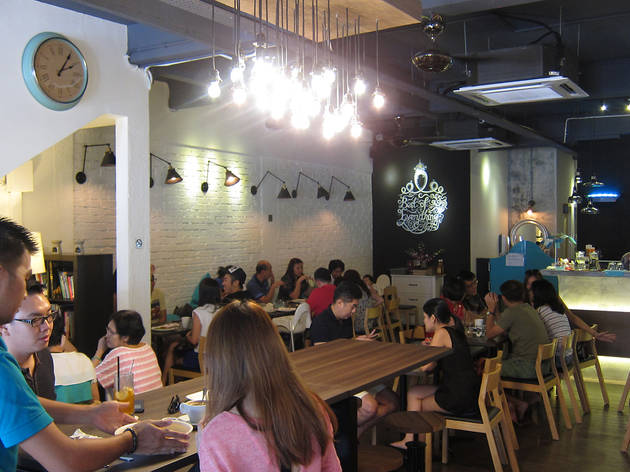 Time Out says
In recent years, decades-old restaurants have been priced out of PJ as more expensive start-ups are piling into the neighbourhood. I do believe in paying a little bit more for a good meal, but subpar cafés these days are charging RM25 for a measly bowl of fries just because they're lightly tinged with truffle oil. For that price, I'd expect my fries to be drowning in it! Thankfully, Bofe (which stands for 'Best of Everything) lives up to its modest price tag for the pleasant dining service that upends your usual café expectations.

A quick look at the menu reveals an influence of intersecting cultures. The French-inspired vodka-infused crab canapés or the Japanese-inclined paprika chicken soba sound almost pretentious, but it could just be Bofe giving today's customers what they want: a sense of excitement. Both entrées had run out during my visit so I was left with the chef's other recommendation – prawn and mango cup. Seared prawns, slicked with a spicy and tangy sauce, are served in cup-like lettuce leaves and topped with diced mangoes. You're meant to eat them in one go, like a wrap, to get that delicious rush of heat and fruitiness.

Every dish that ensued achieved the same height of casual perfection, especially the Mojo Picon Chicken with buttery pilaf rice. A chicken skewer without condiments is like a marching band without the percussion: vapid. But Bofe drums up attention with a bracing mojo picon sauce – a staple in the Canary Islands. Its brash spiciness doesn't instantly appeal but the aftershock of dried chilli flakes and roasted capsicum is strangely addictive – if only it didn't overpower the chicken's natural sweetness.

Just when you think the chef can't draw any more inspiration from another country's culinary culture, he cranks out a lamb shank with a Moroccan twist that neatly feeds two people. Good things reward those who wait. The gelatinous lower part of the leg – excessively seasoned and marinated a day earlier – is slowly simmered until its flavours seep out into the braising liquid, which becomes the sauce. Bofe's fall-off-the-bone lamb shank is uplifted with crunchy roasted vegetables, smothered in a thick tomato sauce humming with spice and served on a bed of mash – it's a tender moment you'll hardly forget.

It's surprising how a café that offers an odd variety of dishes including pastas, burgers, katsu and chops can be so conversant in Asian-fusion cuisine without succumbing to clichés. After a meal here, you'll want to come to Bofe every fortnight just to lounge away in the laidback ambience and sample the dishes one at a time – it's the highest compliment we can give to a promising newcomer.
Details