Bulgogi Brothers Paradigm Mall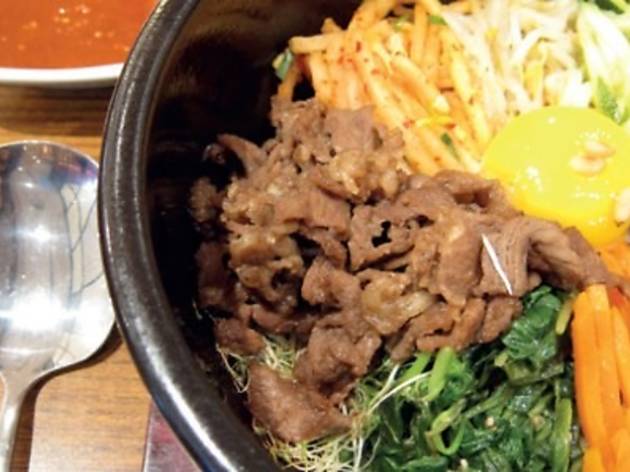 November 2012
Korean food has never quite found equal footing with the ever-growing Japanese culinary scene in KL. And the reason may be how our palates are trained – yes, Korean food is often more spicy, not the sambal piquancy we're familiar with but a pungent, fermented aftertaste that's almost racy. So it'll be interesting to see how the much-hyped Bulgogi Brothers tip the conventions of traditional Korean dining. But can a Korean chain originating from Seoul rival the restaurants set up by natives who are now populating Ampang's backyard? You'll be surprised.
Step into the polished confines of Bulgogi Brothers and you'll find the aroma of barbecued meat imbuing the space. The requisite charcoal brazier in a traditional Korean restaurant – more like a theatre piece that spits fire to grill your meat – is replaced with an induction stove. Tables are cleverly installed with drawers to stow away napkins and toothpicks, while suspended lights are affixed to the ceiling to create a dimly-lit ambience. I was served a complimentary corn tea (oksusu cha) intended to manage blood pressure and prevent diabetes, and a palate-cleansing corn soup as appetiser – a dish so loaded with flavour it could be turned into a luxurious sauce for a salmon dish.
Bulgogi Brothers has clearly been designed with the modern generation in mind. Swaddled in plumes of smoke as the waiter cooked my Seoulsik Bulgogi, I was soothing the burns of kimchi with more tea while in the background Ella Fitzgerald cajoled me to fall in love (although I thought 'Smoke Gets in Your Eyes' would've been more appropriate). Served with refillable side dishes, the bulgogi – thin slices of beef marinated in an unusual apple and pear sauce – was tossed in glass noodles, enoki mushrooms, leeks and onions. Flavours leached out of the slow-cooked meat to form a sweet broth. And the result? Every bite was an approval to the contemporary touches attempted by Bulgogi Brothers: the special, fruity meat marinade, as well as the uncanny pairing of jazz music with Korean dining.
I was further seduced by the colourful bulgogi bibimbap that was threaded with an assorted julienned vegetables, beef chunks and gochujang chilli sauce. The raw egg made the dish a tad claggy when you mix everything together but the rice clinging to the bottom of the stone bowl was fragrant and crispy. The menu conveniently indicates which rice liquor (soju) best go with each dish, but there are cocktails and wines too if you prefer something less potent.
Servers were extremely passionate that they almost bordered on badgering but perhaps that was because the three-month old restaurant was still buffing its lustre. Before I left, I spotted some heart-shaped beef cutlets that aren't served in a normal Korean restaurant. But then again, who said that Bulgogi Brothers was concerned with the norm? Kong Wai Yeng
Venue name:
Bulgogi Brothers Paradigm Mall
Contact:
Address:
Ground Floor
Paradigm Mall
1 Jalan SS7/26A
Petaling Jaya
47301

Opening hours:
Daily, 11am-11pm