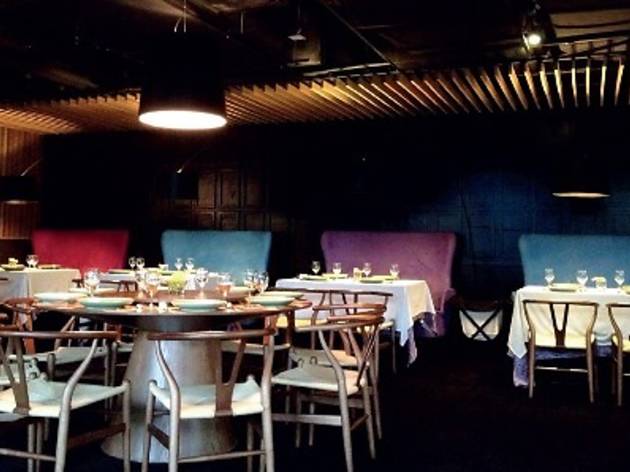 October 2012
The main problem with Busaba is that hardly anywhere on its very plushly decorated interior or exterior does it say the word 'Busaba'. For a long time it existed in my mind as 'The Thai place with an unintelligible name', being that the logo is a Thai scrawl in a pink cloud. Slightly hidden behind the more prominent Alexis, this unintelligibility doesn't help the cause of its visibility.
But if you can bring yourself to walk past Alexis' inviting display of cakes, Busaba is a gorgeous oasis of a restaurant. A combination of great lighting and jewel-toned furnishings make it a discreet and visually arresting place to dine, with a great view overlooking the ubiquitous Twin Towers. It's the kind of place BSC excels in: pretty to look at, and very expensive.
Because Busaba is phenomenally expensive for what is, at the heart of it, a fairly standard Thai restaurant. They have all the usual curries and salads, but prices have been topped up to cover what must be pretty steep rent. You won't get a curry this side of a (new) RM20 note, and a coconut you could pick up for RM3 in the supermarket downstairs comes in at four times the price here. But what Busaba does very well is presentation: the aforementioned coconut is cleaned up, placed on a pretty porcelain plate and adorned with the kind of cocktail umbrella not seen since the '90s. (It still tasted the same.)
We ordered a red curry duck for the price you'd pay for a whole roast duck, and while it was excellently done – tender strips of roast meat in a rich, piquant sauce – what we most admired was the crockery it arrived in. A pomelo and prawn salad came arranged artfully like a beautiful deep-fried crown, but the batter was disappointingly rubbery, and the pomelo lacked in flavour. (The pretty carrot flower embellishment was a nice touch though – it even sported a delicate carved carrot leaf.) A recommended stir-fried asparagus with prawns was excellently done, with a great subtlety of flavour but nothing to set our hearts racing.
Food arrives fast here, and service is excellent; many smiles and recommendations were thrown our way throughout the evening. It fills up fast as well, with well-heeled aunties who dinner, discreet businessmen and even a young couple or two. Come for the atmosphere and the view; and bring your credit card. Emma Chong
Venue name:
Busaba
Contact:
Address:
First Floor
Bangsar Shopping Centre
285 Jalan Maarof
Bukit Bandaraya
Kuala Lumpur
59000

You may be interested in: