Choong Kee Kampar Claypot Rice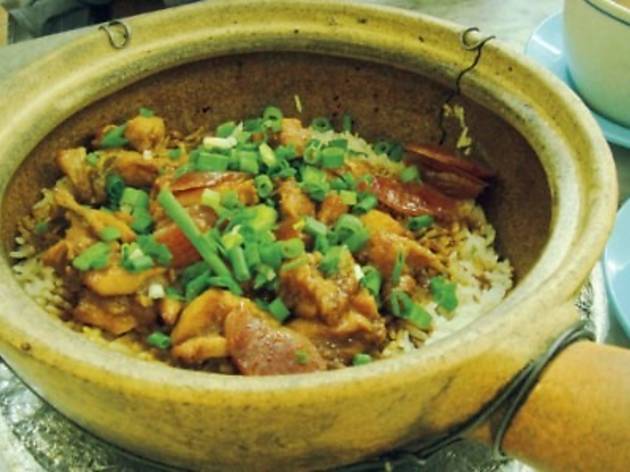 September 2012
It's always a good sign when a hawker stall expands into its own shop, because it means demand for the food has exceeded the existing space. In the case of Damansara Jaya's Choong Kee Kampar Claypot, this is exactly what happened. Until a few years ago, the business was run from Kun Kee kopitiam, a little further along on the same street. Now, Choong Kee has its own shop lot, and it's still so busy that customers usually have to wait for a table.
Despite the upgrade, Choong Kee retains a modest kopitiam feel. A sign hanging on the wall proudly proclaims the name of the restaurant in Chinese, with the English words 'Burnt Charcoal' in brackets underneath. Choong Kee's famous (and only) main dish is its claypot chicken rice, and their trademark touch is the charred bottom to each dish. It sounds dubious, but believe me when I say that it really, really works.
You can choose either a big or a small pot, and opt to add Chinese sausage or salted fish to the mix. A big pot can be shared between two people, but the dish is so tasty you may actually feel cheated when you get to the bottom of it.
The claypot dish arrives with a deceptively simple appearance: rice topped with chicken pieces and a scattering of scallions. Mix it all together, however, and something almost magical happens. This is one of those 'melt in the mouth' clichés – the rice is perfectly cooked, the chicken is tender and savoury, and the optional sausage slices kick in with a little sweetness. Then of course there's the charred taste, which gives the whole dish an added depth and subtlety. Simply put, it's a joy to eat. You'll end up scraping the bottom of the pot.
Aside from a few side orders of vegetables, the only other dishes on Choong Kee's menu are eight varieties of homemade soups. As it turned out, most of these were sold out on the night we visited, leaving only two types to try: herb with kampung chicken and peppercorn with pork stomach. Now, Choong Kee is certainly not guilty of overselling its food when it comes to the descriptions, which didn't inspire much excitement in me at first. But like the unassuming claypot, these broth-based soups completely defied expectations.
Both soups had an amazingly well balanced flavour. When paired with the slowly simmered pork stomach, the humble peppercorn was transformed into a force to be reckoned with. The chicken soup was also delicious, with a slightly sweeter and more piquant taste. I couldn't detect a trace of MSG between them: the soups were so comfortingly authentic that they reminded me of my mother's home cooking, packed with honest, nutritional goodness.
It's worth noting at this point that while the food at Choong Kee may be comforting, the service isn't always so. In fact, the proprietress of Choong Kee, a Chinese auntie who goes by Irene, has quite a reputation for her grumpiness. While I myself didn't witness this during my visit, other customers have reported being burned by her temper, which is apparently as fiery as the claypot charcoal. Still, this doesn't seem to stop people coming back, because the place is always packed at dinnertime. Ling Low
Venue name:
Choong Kee Kampar Claypot Rice
Contact:
Address:
80 Jalan SS22/25
Damansara Jaya
Petaling Jaya
47400

Opening hours:
12noon-2.30pm & 5pm-9pm. Closed Wed.
You may be interested in: