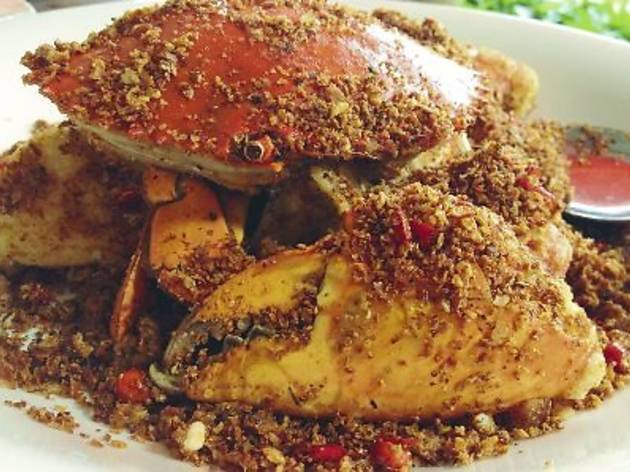 September 2013
Eastern Crabs was empty when we arrived for lunch and again when we eventually left the nondescript halal seafood restaurant over an hour later. The lack of customers that day was decidedly less about the quality of the food and the extensive menu (filled with predominantly Chinese seafood fare and a small section of Western chops) than the fact that Plaza Ampang City's halcyon days have passed. (We suspect the daytime construction work deafeningly taking place across the street might have something to do with that as well.)
The one Hong Kong typhoon shelter fried crab we ordered, which was more than adequate for our party of three, wasn't the juiciest or meatiest we've tasted. However, the liberal amount of fried garlic and chilli that flooded Eastern Crabs' marquee dish delivered a pleasingly fiery punch. The type of crab used here is of the large Sri Lankan mud crab variety, with other preparation styles including Singapore chilli, steamed in egg white, and deep fried with salted egg yolk.
We continued our scrutiny of the Eastern Crabs seafood section with the 220g jumbo sea prawn, deep fried with salted egg yolk. It turned out to be tender and hugely satisfying, but for the steep price and small helping (when divided among more than two people), we'd be tempted to pay a bit more for a crab dish, especially if sharing is a priority.
The ensuing Hong Kong famous fried rice with crab meat and Louise sauce (a spicy mayonnaise-based sauce) certainly justified the recommendation of our warm albeit overly enthusiastic server, who was spot on when he said it goes well with seafood. We were left pining for more of the aromatic and appetising signature offering though, as we weren't aware that it was not meant to be shared.
As our meal wore on, we started to miss the chatter of families and the sound of crabs being cracked open from neighbouring tables that are customary at bustling seafood joints. Nonetheless, if competitively priced seafood with a side of other Chinese/Western culinary favourites in a secluded setting are what you're after, Eastern Crabs Restaurant proves more often than not that silence is golden. Wong Boon Ken
Venue name:
Eastern Crabs Restaurant
Contact:
Address:
Ground floor, Plaza Ampang City, Jalan Ampang
Kuala Lumpur