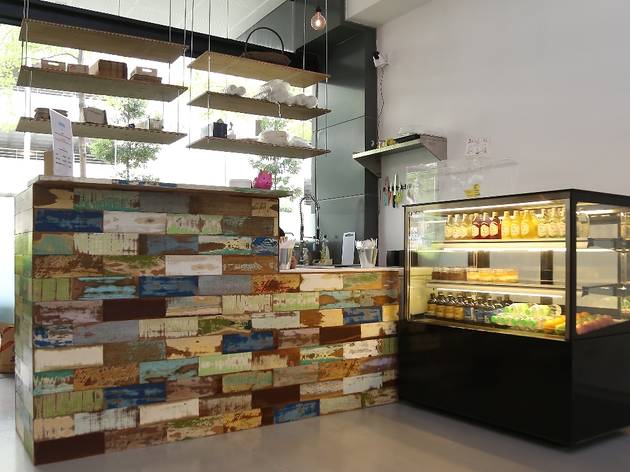 1/3
Photo: Hizwan Hamid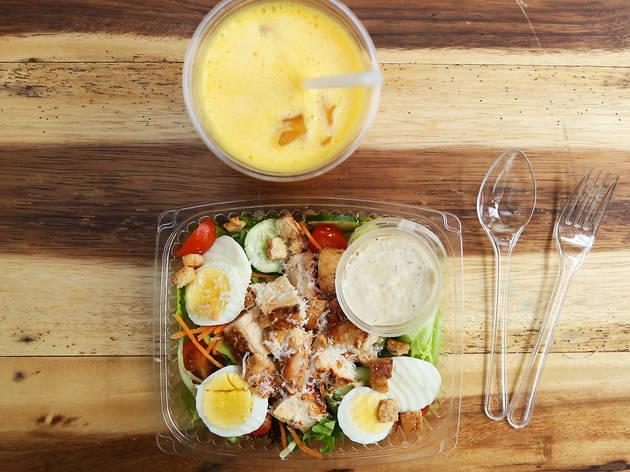 2/3
Photo: Hizwan Hamid
Roasted chicken Caesar salad (RM13), Spongebob fruit juice (RM9)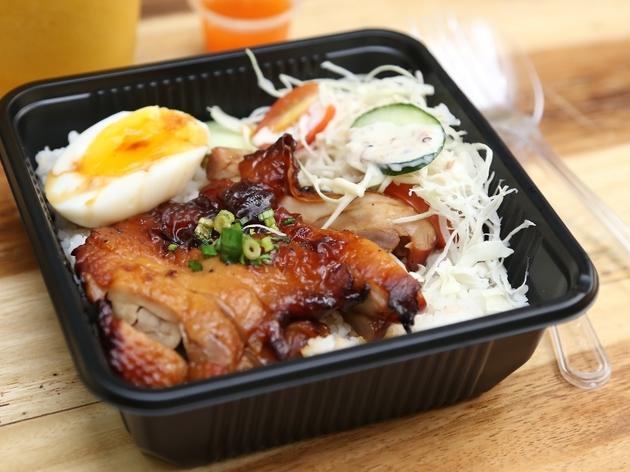 3/3
Photo: Hizwan Hamid
Teriyaki chicken rice
Away from the usual hectic areas of the city, this gourmet grab-and-go joint is good for some quiet time. Eat at D7 may be the first public eatery for founder Jun Chan but he is certainly no stranger to the F&B business. Technically, there are already three cafés under the Eat umbrella; the other two however, are for the office crowds at Digi and PricewaterhouseCoopers.
Interior-wise, Eat is sparse – two wooden tables outdoors and a small countertop with four seats indoors. But according to Jun, this is to emphasise Eat's grab-and-go concept. Everything there is pre-packed and chilled; if you pick a noodle or rice dish you can have them warm it up for you.

The selection at Eat is actually some of Jun's favourite dishes with a twist, such as the pasta pan mee (RM15), in which spaghetti replaces the flat flour noodle in thick black soya sauce, topped with mushrooms and minced chicken. While you can expect new items introduced every now and then, permanent items that are popular with customers so far are the triple mushroom aglio olio and minced beef and chicken dan-dan mian (both priced at RM15). Most of the ingredients are locally sourced and in Jun's words, 'We try not to rely on anything that comes from a can or bottle.'

You can be rest assured that the salads, sandwiches, rice and pasta dishes are prepared by the Eat team. For everything else, Jun sources them from his network of friends in the food business: sodas by The Tapping Tapir, bottled coffee by That Iced Coffee, curry puffs by Smokin Salma's and baked goods by different local bakers including Baked by JM.

Although Three Little Birds is just around the corner, Jun mentions that there have been requests for coffee, so that is a possibility for Eat in future. For now, you can either grab any of the bottled sodas and coffee or order a freshly squeezed fruit juice (RM9). You can choose up to four fruits or have one of their signature mixes: the Barney (dragon fruit, red apple, pear, honeydew and orange) or Spongebob (mango, pineapple, pear, yellow watermelon and orange).

As mentioned, seating space is limited, but we're told that there would be more tables outside soon as Jun hopes to somehow make the space a little less stuffy, which is a good idea in our books; D7's quaint ambience makes the perfect canvas for outdoor seating.
Venue name:
Eat at D7
Contact:
Address:
G-13A
D7
Jalan Sentul
Sentul East
Kuala Lumpur
51000

Opening hours:
Mon-Sat, 9.30am-8pm
You may be interested in: