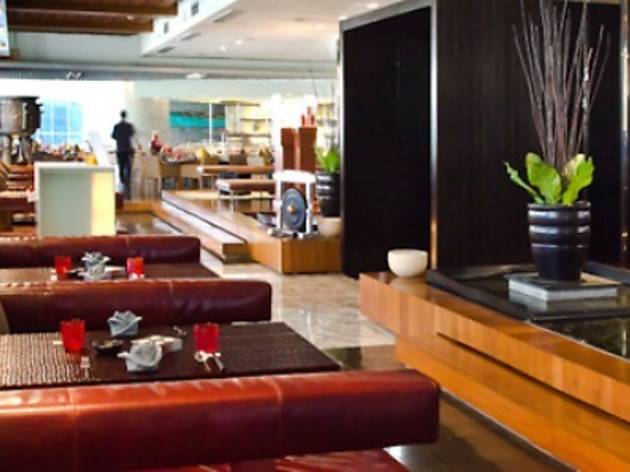 April 2011

EEST, a Chinese restaurant at Westin Hotel, just stripped the non-halal title and they're going porcine all the way. People are gushing in - all to sample the revamped menu and check out the char siew that everyone's been raving about.
The barbecued pork belly, sliced into generous chunks and lacquered with caramelised sauce, is immaculately executed. The proportion of smoky and fatty bits is just right; the charred surface lends a subtle crunch and the meat is never too oily. We can easily finish a plate of this.
Competing for our attention at the side is the classic roast pork (xiu yuk). Slicing is almost an art here; the ratio of skin, meat and fat is perfect so what you savour is the browned crackly bit first, the meaty chewiness and finally, the tender strip of fat that melts effortlessly on the tongue.
The Dim Sum at EEST comes in astonishing variety and they don't just serve your regular har gao or siu mai. Concealed in bamboo steaming baskets are delicate xiao long bao, which pockets a briny broth that scalds the tongue easily if you're not careful. Every dim sum we had is crammed with plump prawns, scallops and more juicy pork. There were puffy steamed buns (char siew bao) lurking at a corner too but let's leave that for another day.
Apart from these little parcels of steamed dumplings, EEST delivers stunning traditional Chinese dishes - rice, fish, chicken and pork (yes, more is good) are inescapable from the menu. The steamed Patin fish - nicely butterflied and doused with soy sauce - is fresh and the meat gently tears apart when pricked with chopsticks. The golden fried rice, strewn with smidgens of egg and char siew, is arrestingly fluffy and we left not a grain behind.
Again, the show-stopper is ultimately the pork knuckle. Dissever it with a knife and you'll see streaks of fat clinging to the crackling skin. Spend too long in the wok and the meat will turn dry but the version we savoured is very fragrant and moist. The sauce - a sweet and salty mix - makes a simple dip if you like more flavour in your piggy.
Adding to all that, EEST is primped with gilded furnishings, antique tables, large aquariums and a wall-to-ceiling glass that reveals Bukit Bintang's scenery. This is truly, one fine Chinese restaurant. Kong Wai Yeng
'All You Can Eat Dim Sum', Wed-Fri, 12noon-2.30pm. RM45++; Weekends, 11.30am-2.30pm, RM98++. Dinner, Wed-Sun, 6.30-10.30pm.
Venue name:
EEST
Contact:
Address:
The Westin, 199 Jalan Bukit Bintang
Kuala Lumpur


Opening hours:
Wed-Fri, 12noon-2.30pm; Weekends, 11.30am-2.30pm; Dinner, Wed-Sun, 6.30-10.30pm.
You may be interested in: