Fong Lye Taiwan Fusion Chinese Restaurant The Gardens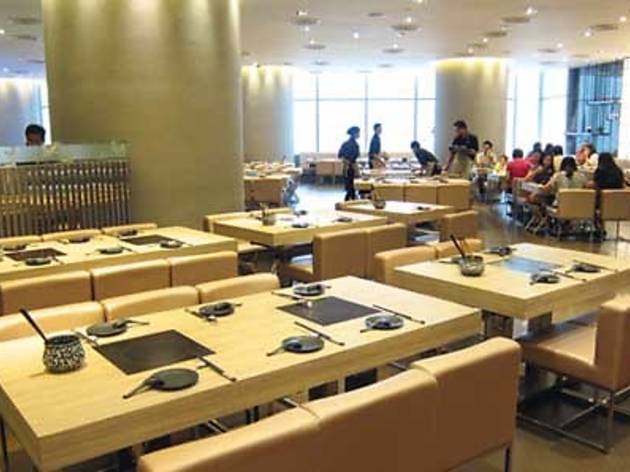 February 2014
There's probably no other word in gastronomy that provokes a reaction as extreme as 'fusion' does. Some consider it a dirty word thanks to chefs who, given free rein to their creativity, spawn disasters like spaghetti with Chinese dumplings (that's just wantan mee, really). Fong Lye Fusion – the latest addition to the Fong Lye empire, which also owns Kiki at Suria KLCC – mostly attempts to blend together Japanese and French cuisines by incorporating different cooking styles, as evidenced by their foie gras teppanyaki dish and chicken rice sushi with glazed char siew. But feeling especially non-adventurous during my visit, I opted for the safe but equally popular steamboat instead.
I settled in at my table, contemplating the bite-sized appetisers included in the steamboat set. There was a croquette enrobed in batter with a crunch like fried chicken, noodles blanketed with seaweed slices, as well as pickled vegetables. The plating may have been delicate but the trio served its purpose as a decent palate pick-me-up.
Then came the main agenda. For the steamboat, you're allowed to choose any two of the soup bases: tomato, seaweed and spicy. I picked seaweed and spicy – a scarlet, fiery broth that was gently lifted by the herby aroma of dried chillies, red dates and wolfberries. The platter of raw ingredients – prawns, lala, rosy beef slices, pumpkin chunks, dumplings, mushrooms, squid paste, fishballs, yam, sweetcorn, fish fillets and lettuce – were all thrown into the pot to cook and soak up the bubbling liquid.
A good soup, the backbone of any steamboat, should be derived from a rich stock and then accentuated by herbs. But the broths I had were underwhelming – not teeming with aromatic vegetables and marrowbones, nor simmered all day to capture the flavour of whatever they were made from. The spicy broth, as pungent as a mala soup, was so peppery it robbed the seafood of its natural sweetness.
It was difficult to work up much enthusiasm when all I had were dreary soups that killed both the flavour of the food and my tastebuds. The only relief came from the dessert (also included in the set) comprising mango pudding, a wedge of cheesecake and half a strawberry. I actually like Fong Lye's décor (decked out in blond wood), the quick but sometimes forgetful staff, and the soothing ambience that promotes lingering. But a Taiwanese restaurant that can't do a good steamboat is like a surgeon who's crap at stitching. The steamboat was serviceable but couldn't rival those at speciality houses. Maybe next time I'll give their fusion dishes a try. Kong Wai Yeng
Venue name:
Fong Lye Taiwan Fusion Chinese Restaurant The Gardens
Contact:
Address:
The Gardens Mall, third floor
Kuala Lumpur


Opening hours:
Daily, 11am-10pm
Rating Breakdown
5 star:

0

4 star:

0

3 star:

0

2 star:

1

1 star:

0
I went Fong Lye Taiwan Fusion Cuisine Chinese Restaurant at The Gardens today. I was too disappointed about it. We went in at around 7 and ordered our food about 7.30pm. Then of course we wait our food to be serve. Alright, then all the guest come in one by one about four family there. Then they orders for their foods. The point is I'm still waiting my food to be serve. Alright, never mind still waiting. Then, all the late comer have their food served and our food still not serve yet, non of our foods serve. The other four different family come in late, order late, but their foods already served. And I'm so mad about it and they charge me service tax about RM14 when their service is not that good cause they serve late. They didn't apologize to us though. And they finally served us after 45 minutes. And those who come late already done eating. The food taste a bit salty but overall taste okay.