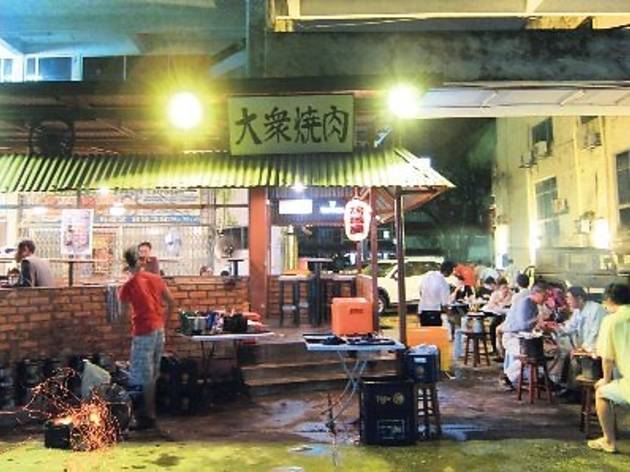 May 2013
Outside a grungy building in Taman Desa is a stall with charcoal pits seething in a back alley. On the grill are sheets of thinly sliced rib-eye with smoke rings around the edges and pork belly crisping up over embers. There's a primal urge to ditch cutlery since everyone here is sucking their fingers and wiping the meat essence dribbling down their chins. A customer asks for a large plate of garlic fried rice – the waiter ferries it over, and he picks up five more orders on his way back to the kitchen. Are you hungry yet?
Run by the same people who own Sanuki Udon restaurant just around the corner, Japanese BBQ is located in the centre court of the grimy Faber Complex, which is now obscured by a jumble of shops where you can score a Princess Diana perm or buy a goldfish. You might not be able to find the stall unless you live around the neighbourhood. But a no-frills roadside barbecue – like those you'll find in typical J-and K-dramas – can actually be found in KL. Here, you can rock up in shorts and prop up one leg on a plastic chair while knocking back some sake without attracting stares.
How well your meat is cooked depends on how good a cook you are. You don't need the chops of an Iron Chef but master the basics: sear the non-marinated meat to achieve a tender interior and swish it around after three to four minutes for a burnished mahogany crisp. Let the smoke absorb and burrow deep into the flesh. The stall has almost every cut for their beef and pork yakiniku (Japanese barbecue) but lamb gets special treatment. They do it Genghis Khan style – chunks of lamb are surrounded by cabbage and cooked on a dome-shaped skillet reminiscent of a Mongolian soldier's helmet. Supposedly, you can eat it with soy sauce, miso dipping or any other seasoning the waiter is happy to fetch you. But you won't: you'll drape it as it is over a semi-cooked cabbage leaf and eat it like a wrap. It's a ubiquitous party dish in Japan, commonly served at snow festivals or cherry blossom viewing sites. So round up your best friends: Sapporo, Chang and Umeshu.
And if you think the cook-it-yourself stall is bordering on predictable, they've got a Japanese risotto on the menu. The chef gets the flavour right for a dish that's very easy to get wrong. It's not creamy, or parboiled to retain a light crunch like an Italian cook would demand. My mushy risotto, a lowbrow Asian version, has an egg yolk to inspissate the rich stock 'til it's the thickness of porridge – comfort food that reminds you of home.
At Japanese BBQ, you might rue the absence of meat variety or be dismayed by the overpriced cuts where the portion only seems sufficient for one person. Sure, you might be better off at an airconditioned barbecue restaurant that comes with free side dishes and waitresses in kimonos. But this rustic stall, defying the Japanese maxim of all things refined, polished and elegant, is as close as I could get to a roadside yakiniku experience. Kong Wai Yeng
Venue name:
Gerai Makan Japanese BBQ
Contact:
Address:
Centre Court, Plaza Faber, Jalan Desa Jaya, off Jalan Klang Lama
Kuala Lumpur


You may be interested in: