Gobo Upstairs Lounge & Grill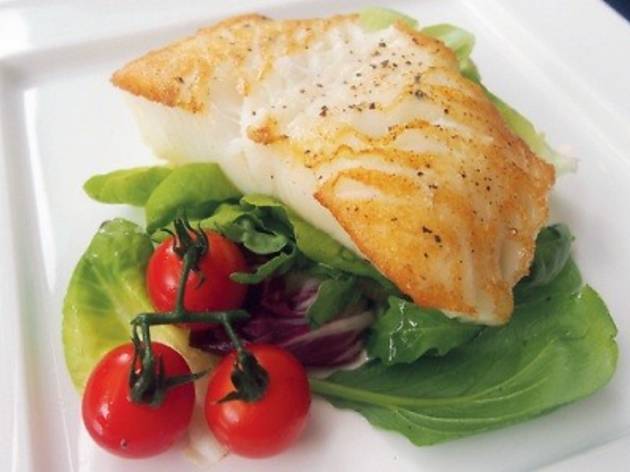 Time Out says
September 2012
At Gobo Upstairs, the service is excellent; some of the best we've experienced in the city. The wait staff are efficient and attentive, and the service is prompt but not obtrusive.
As its name suggests, Gobo Upstairs is big on meat, predominantly beef, with the usual suspects – Australian black angus, master kobe, wagyu and even organic beef – listing alongside lamb, cod, salmon, chicken and king prawn. There are only three vegetarian mains (pastas and risotto) but that's not why you come to Gobo.
To start, the fresh bread – crusty on the outside, warm and fluffy inside – was so good we had to refrain from asking for seconds. Our French onion soup was too light and watery for our liking, but flavourful. If we had to nitpick, we'd say that it's hard to eat from the small dainty bowl, especially with three big pieces of cheese covered bread floating on top. Generous in serving portion, the flamed balsamic marinated Portobello mushroom with mesclun mix parmigiano cheese was an exercise in good balance of flavours – the sweetness of the balsamic played off the saltiness of the cheese while the mushrooms were cooked but still firm and juicy.
And it is this sort of skill that defines the food here at Gobo Upstairs. They are not innovative dishes – no reinventing of the classics or the like, but most of what they do, they execute really well, with emphasis on the simple flavours of the fresh produce. Case in point: our two mains of pan fried cod and braised lamb fore shank. The cod was cooked just right that the flesh fell off in succulent flakes; the sweetness of the fish went so well with the light salt and pepper coating that we totally ignored the caramelised balsamic shallot sauce that was supposed to go with it. The braised lamb shank was tender but what we enjoyed most was the fact that the meat was so lightly seasoned with minimal gravy that the slight gaminess of the meat came through – definitely a joy for 'purist' meat-eaters.
We finished off with an apple strudel with cinnamon ice cream. It was like a crispy apple popiah filled with cubes of Granny Smith apples, presented with cinnamon ice cream, which we loved. We were also very impressed with the wine list, which features nine choices each for red and white wines served by the glass – more than you'd find in most restaurants in KL. Plus, they are reasonably priced too, from RM25.
To be honest, while the interior of Gobo Upstairs is classy and cosy, it does come across as a little corporate. It lacks a certain coolness, and perhaps that's why Gobo Upstairs doesn't readily come across as a top choice to dine. But when it comes to dining, service and food quality are the real substance that should matter more, and for that Gobo Upstairs scores top points. Lim Chee Wah
Awards
Food Awards 2009

Gobo was specially commended in the Best Fusion / Contemporary Restaurant category of the Time Out KL Food Awards 2009. Our food awards are 100% voted for by the people of KL. This way, we guarantee that popularity and consistent performance is rewarded.
Details