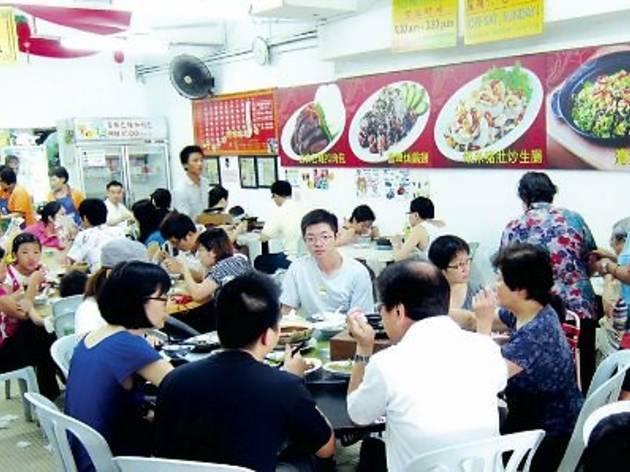 October 2011

Our Chinese elders told us that staring is rude so you can imagine the awkwardness when a dead fish – deliciously fried; slightly crispy on the skin and tail – gapes at us. We've seen a fish head noodle stall serve their dish this way but not here. Goon Wah spared us the quandary by soaking its fried fish (headless, of course) in milky soup and masking the fishiness with lashings of sprightly coriander. Our slithery XO fish head noodle has a riot of ingredients: salted vegetables, tomatoes, scallions and evaporated milk. Soup was more briny than milky, which explained why the broth looked less cloudy. We detected a tinge of sweetness in the soup too. And then we found... the yam. The starchy tuber will reward you with sweetness, if only you coddle it with patience.
Affixed on the wall are placards of Goon Wah's signature dishes and as we reconciled what was on our plate with what was in the picture, we weren't disappointed. Our loh shu fun picked up a smoky wok aroma from the claypot, which stir-fried and heated its contents gently. Dried shrimps that were left a little too long in the claypot only became crunchier when eaten with minced pork and noodles in dark soy sauce. There was no doubt that a mite of chilli padi was present because by the time we finished this, two bowls of barley tong sui were emptied.
We decided to order from the placard again and betted on the Stout chicken wing and stir-fried pork maw and intestines. There wasn't a trace of Guinness in our marinated chicken but the skin, glossed with honey and sesame, was delicious enough to make these wings fly. The brusquely sliced pork maw and intestines were salty, chewy and spicy, and it was only right to eat it with a lot of rice.
There're at least 20 people working at Goon Wah and the restaurant is still understaffed despite just occupying two shoplots (there's an air-conditioned room inside). Service was quick and tables were replenished with new customers as soon as diners paid the bill. But, one question remained. Where's the XO in our fish head noodle? The lady boss said, 'Sweetie, it's just the name. Who said there was any liquour in the first place?' Kong Wai Yeng
Venue name:
Goon Wah
Contact:
Address:
G13 & 14
Block KP 2
Jalan 3/115C
Taman Kuchai Jaya
Kuala Lumpur


Opening hours:
Mon - Fri, 9am - 4pm; closed on weekends for catering
You may be interested in: