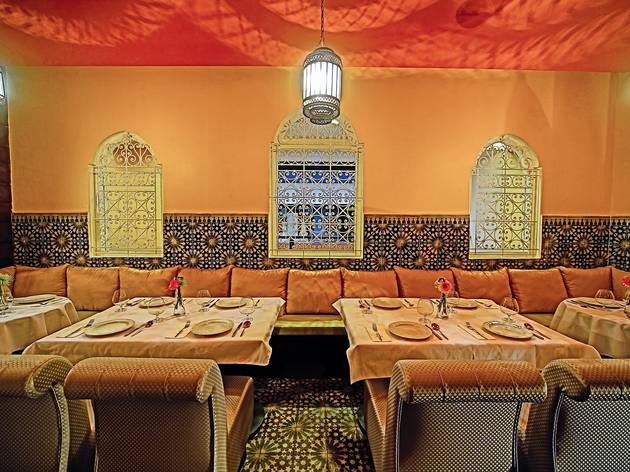 Time Out says
My encounter with Hammam Bistro begins rather strangely as I walk along the quiet, cavernous corridors of Publika. The restaurant is completely devoid of customers and staff, and not a sliver of noise can be heard. I phone the restaurant to make sure it still has a pulse and the line rings to no avail. I then bellow out, 'Are you open?' and a waitress ambles out of the kitchen, outwardly surprised that a customer has had the nerve to show up. She tells us to pick our seats (we're hardly starved for choice) and her surprise turns into overflowing warmth for my dining partner and I; we are, after all, the only ones for her to fuss over.

First, warm mint tea arrives in a striking Moroccan teapot and it's as good as mint tea gets. Bright in freshness, but also lavish in its richness. It just about sets the scene for a dinner spent in an utterly silent restaurant. The space is set out attractively like a cosy den, save for the over-the-top chairs. There are bursts of reds and yellows against lovely Marrakech-designed tiles, there are arched windows, and there are pretty lanterns. While waiting for the food to arrive, I feel like an extra on the set of Rick's Café in 'Casablanca' – only without the drunk patrons or the possibility of war.

The salad of lamb kofta with rocket arrives – spiced meatballs topped with minted yoghurt pair about as well as you'd expect with the crunch of leaves and the sugariness of cherry tomatoes. The house salad, however, is simply smoked salmon with rocket and avocado, and would sit better at a modern Australian café.

The main of couscous with Dorper lamb is majestically presented for two, but marketed for one. The lamb – slow-cooked with a mix of powdered spices to startling tenderness – is accompanied by soft chunks of potato, radish and zucchini arranged on a layer of couscous. The fatty dripping juice from the lamb is served on the side in a gravy boat, and it softens the couscous into fragrant, lamb-flavoured lumps. One complaint: It needs freshness or crunch among the melting textures – crispy fried onions, a scatter of toasted pine nuts, or a handful of fresh parsley would definitely go a long way. The chicken tagine fares better if only for its sauce of preserved lemons, a reminder of the intense flavours lemons pick up when left to pickle in salt.

Objectively, all the food I order is prepared well, but I find myself clamouring for a missing element – maybe it's robustness, maybe it's comfort, or maybe I just want to hear the clatter of knives and forks when eating in a restaurant.
Details