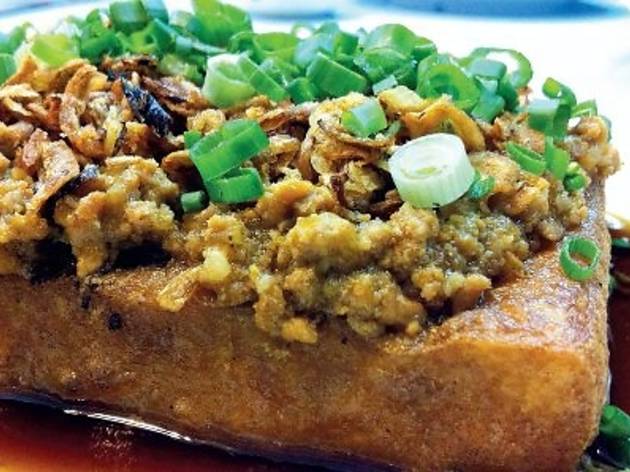 September 2012
One of many eateries that have opened in the burgeoning Desa Park City area in the recent past, Highland Fish is distinctive in that it is Taiwanese food-centric and specialises in tilapia that's been farmed by the owners in fresh water on the highlands of Bukit Tinggi, together with the vegetables that are served in the restaurant.
Not surprisingly then, tilapia dominates the menu, with steaming appearing to be the preferred method of preparation. Teochew style is most popular among the diners, not least because the minced ginger, soy sauce and surfeit of chilli padi and fresh coriander work together with serendipitous harmony to enable the flavours and texture of the flaky fish to sing. Happily, there is no vestige of the muddy taste in the farmed fish that plagues its 'free range' cousins. I remember as a child loving Teochew style fish because freshly blanched vermicelli would be quickly dipped into the sauce and eaten with the fish; it's an eminently pleasurable tradition that should be revived in Chinese eateries.
For a rather more subtle flavour, the fish is also steamed with basil in chicken soup. There's also the deep-fried Thai style, with white pepper in claypot, and – most blasphemously – with butter cream sauce and egg.
And because man cannot be satiated by fish alone, Highland also serves a full menu of cooked dishes, with the Taiwanese style three cups chicken coming up trumps. The chicken is cooked in Chinese wine, sesame oil and soy sauce and is a triumphant balance of sweet, sour and salty. Despite my dining companion's enthusiastic pre-selling of the four angled beans, it wasn't available, but it is, according to this regular, a key dish to order: The crunchy beans are fried with garlic, spicy dried shrimp and belacan, and are purported to be superb.
Home-style comfort food dexterously prepared such as the homemade tofu lavishly topped with minced pork, stir-fried sweet potato leaves, braised eggplant with pork, and pork ribs fried in Marmite sauce further reinforce this restaurant as an emerging force in the gastronomic circles of the Desa Park City and beyond. And although there was a smidgeon more MSG than I would normally have cared for in my food, the ingredients are so fresh and well-intentioned that I have to forgive the heavy handed use of seasoning. Fay Khoo
Venue name:
Highland Fish
Contact:
Address:
Medan Putra Business Centre
61 Jalan Medan Putra 1
Bandar Menjalara
Kuala Lumpur
52200

Opening hours:
Open daily, 10am-2.30pm, 5pm-10pm. Closed on alternate Wednesdays
You may be interested in: