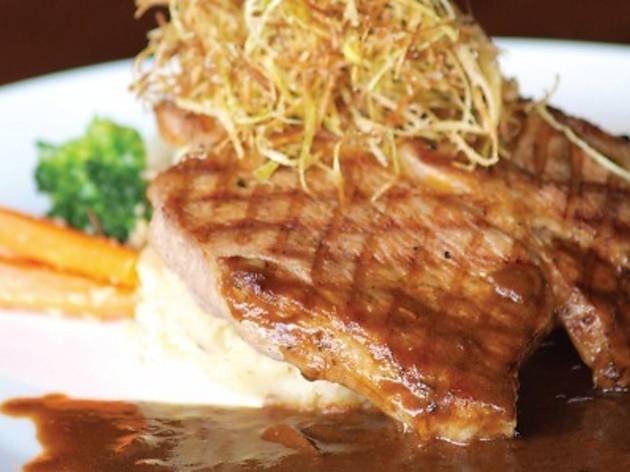 Time Out says
April 2011
Impelled by the magnitude of success enjoyed by their Tom, Dick and Harry pub, the boys behind the bar last year opened Hoofed, a wine bar-eatery located just upstairs from its older 'sibling'. Named in honour of the humble piggy around which the menu is based, Hoofed has since enjoyed the same success as TD&H, probably because the pork-starved denizens of TTDI can't get enough of the porcine dishes it offers. If I were to be pedantic, I'd point out that the concept and menu smells suspiciously like that of Vintry, the other wine bareatery whose thundering success the last few years must have surely inspired at the very least plagiarism from other restaurateurs.
And if imitation is flattery, then Hoofed pays great homage to Vintry with its menu. There's the same signature roast pork, but Hoofed's version – whilst blessed with a crackly crackling and suitably marbled flesh – lacks a certain je ne sais quoi that ensures it stops just short of being irresistible. You'd be better served ordering the lam yee fried pork belly. Savoury, crispy and coated with a light dusting of fermented bean curd batter, this snack makes a lovely companion to the libations of your choice.
There's also the same angel hair pasta with caramelised roast pork, although at Hoofed it's called devil pasta and the sauce has all the subtlety of Thor's sledgehammer, enough garlic in wipe out the entire Twilight. But where the menu similarities end. Hoofed serves (pre-orders recommended) a signature suckling pig is not for the fainthearted.
A shortage of time and mouths put paid to my goal to try but reports from fairly reliable sources drift back to me that it's succinctly unctuous, expectedly acceptable crunch, but rather fatty. Other main courses choices include the chicken and pork chops, both prepared in a similar fashion and both palatable, although here again the sauce would have been helped by a little more discretion.
The food may be less than spectacular at Hoofed but I'll wager that it won't affect its continued success, and that's because it's comfortable - the brick lined cellar-effect ceiling is a visual treat - prices are fair, and service is competent enough.
Corkage at an eye-popping RM100 per bottle serves as an effective deterrent from BYO-ing, which is fair enough, considering the eatery/bar houses more than 100 wines in its cellar, in addition to a more than ample selection of single malts for drinkers of non-wine persuasion. While obviously not the altar at which a gastronome will genuflect, Hoofed's other attributes ensures there won't be any shortage of customers for some time to come. Fay Khoo
Awards
Food Awards 2011

Hoofed was shortlisted Best New Restaurant and Best Pub Grub of the Time Out KL Food Awards 2011. Our food awards are 100% voted for by the people of KL. This way, we guarantee that popularity and consistent performance is rewarded.
Details