KGB (Killer Gourmet Burgers)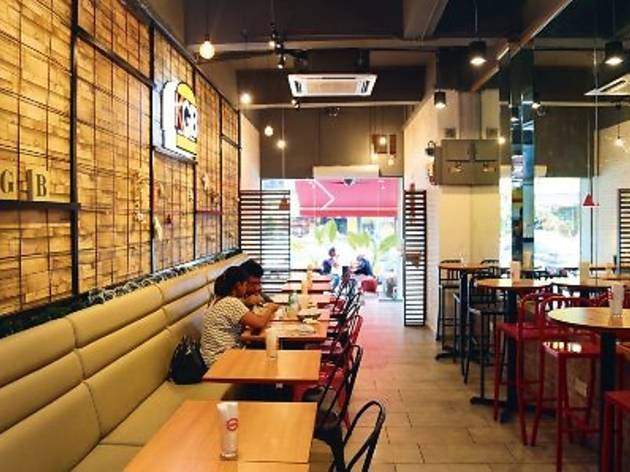 Time Out says
January 2014
Since myBurgerLab revolutionised the local gourmet burger scene with their curious-at-the-time charcoal bun burgers almost two years ago, new burger joints seemed to have taken it upon themselves to come out with a shtick that sets their burgers apart from the rest. The latest to join the group, KGB, literally brands its burger buns to match its industrial, almost military-like theme. For the record, I was more interested in the idea of a new burger place opening in Bangsar than tattooed buns.
KGB only opens in the evening during the week and for lunch and dinner on weekends. I'm not sure if the constant stream of customers walking in on my visit (which was a Wednesday) was a result of the burger joint's growing popularity or its sporadic operation hours; all I know is that coming in no more than a couple of hours after opening makes the difference between freely joining two single tables together to fit our party of three and waiting around for a free table.
KGB's menu offers a good selection of beef and chicken burgers with two vegetarian options (which we ignored). The beef and chicken burgers are divided into diner burgers and gourmet burgers; the former is the basic, cheaper option while the latter is 'thicker and juicier' and would set you back at least RM16. I went for the Bash, a beef burger with beef bacon relish, provolone cheese, caramelised onions and – curiously – maple cornflakes. While I did find the beef patty flavourful and juicy, my burger was let down by the bun. Fluffy and soft in a yellowish hue reminiscent of potato bread, the buns seemed too soft to support their substantial contents; eventually I ended up with more filling than bun. As for the cornflakes, I'm still unsure how I feel about them – they added an interesting crunch but I don't think they did anything to improve the overall taste.
The Bella Bomb Tower (two Portobello mushrooms sandwiched with cheese, atop a beef patty) was met with similar dissatisfaction – it's a good combination that just missed the mark flavour-wise – while the crusted meat beef patty in Animal Style (part of the basic diner burgers) did little to put its lower-end group in a good light. Surprisingly, the evening's hero came in chicken form. The Shack's relatively ordinary combination of juicy grilled chicken breast, sauce and cheese was just simple enough to tick all the right boxes in a burger.
As for sides, you can have your fries with different seasonings at KGB, with the Truffle'd Fries being the obvious standout in the list. Sadly, ours arrived overfried and greasy, with hardly any hint of truffle. They do serve a pretty decent basket of battered onion rings, but like the fries, it's hard to ignore the excess grease.
On the scale between genuine and gimmicky, KGB seems to come off more gimmicky, but that's not to say that the burgers aren't good – just maybe overhyped. Luckily for KGB, their menu is wide and curious enough to warrant a second visit. When the time comes, I'm going for the chicken burgers. Syarifah Syazana
Details