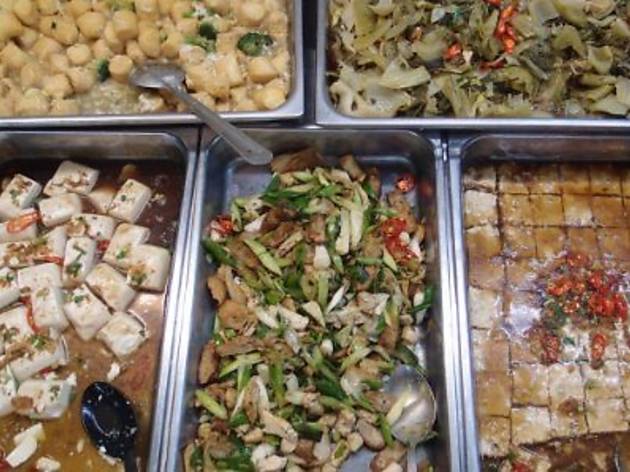 June 2011

Despite being named after rodents' tails, loh shi fun has always seemed to me to more closely resemble sago worms, albeit a rather more translucent version. But that's just me being pedantic, and if eating rats' tails that don't look like rats' tails doesn't trouble other diners then who am I to fuss about details?
An oldie but incontrovertible goodie, Mama Kitchen's loh shi fun outshines its Petaling Street rival for two simple reasons: 1) you may call it 'mood setting' to dine on loh shi fun while the real rats' tails brush against your naked ankles but I'll take the meal without the realism, cheers, and 2) Mama's noodle texture has a silken slipperiness that is the perfect foil for the slightly slimy sauce that characterises a good loh shi fun.
Because a great eatery needs its checks and balances to always keep it at peak performance, I revisited Mama recently, appetite in tow. Despite inopportune timing that resulted in our arriving smack bang in the middle of peak lunch hour, the service was nothing short of impressive. I was advised not to order too much when my appetite for excess threatened to get the better of me. That's a practice that's virtually unheard of in Chinese eateries because more, to them, means more profit.
The food, when it arrived scant minutes later, vindicated my memory of it: the claypot loh shi fun was topped with handfuls of minced pork, liver slices, spring onions and a quivering raw egg which, when introduced to the other ingredients and therefore allowed to cook ever so slightly, gave the noodles a texture that can fairly be described as unforgettable.
Happily, Mama isn't a one trick pony. The cooked dishes are by and large satisfying: I am especially partial to the Marmite pork ribs which always seem to have substantially more pork than ribs (but who's complaining?), and the sweet potato leaves (instead of the standard garlic accompaniment, try the fermented beancurd preparation for a little something something different). The other signature item – the fried roasted pork wantan noodles – pales in comparison to the loh shi fun, both in terms of complexity of flavours and satisfaction gleaned, so order accordingly.
Troublesome parking aside, there really is little not to like about Mama's Kitchen. And like the name implies, the food that is served really is reminiscent of someone's mama's food, even if it's not your own. Add that to exceedingly reasonable prices and you have good cause to give Mama an enthusiastic two thumbs up. Nice. Fay Khoo
Venue name:
Mama's Kitchen
Contact:
Address:
12, Jalan Datuk Sulaiman
Kuala Lumpur