MeatWorks Solaris Mont Kiara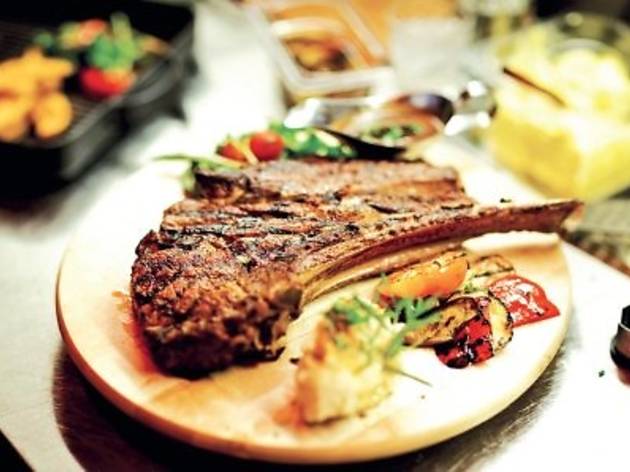 October 2010
I had the preconceived idea that there was something gimmicky, something
opportunistic about MeatWorks but it took the first mouthful of carpaccio to
hit my mouth to dispel that. A brutally impressive way to capture your audience, even the most sceptical meat-head will be sitting up and drooling for the main with the thought 'If this was the appetiser …' flashing in their minds.
There was a pause between courses, not excessive and certainly not long
enough to merit complaint, but long enough for one of the diners to point out
'Yeah, it was incredible, but it was RM33.' More, it has to be said, than most of us would spend on a main course at our other, more usual, locations for a group meal out. Still, you have to applaud the commitment to and expense of sourcing quality beef and preparing it to these standards. Melt in the mouth? More like MeatWorks oozed divinely onto the tongue and drove its flavour through every tastebud on its journey to the stomach.
The BYO burger tasted better than it looked, the plain-ish patty having to endure company but not being overpowered by the bacon (beef, sadly,
the outlet is halal), cheese and egg my friend decided to layer on top. It was a little more done than requested but still did the job.
On the next table, we overheard the near-orgasmic murmurs over
(apparently) the tzaziki lamb burger. However, it might take a few visits
working through the beef side of the menu before I was tempted with anything not sourced from a cow.
The waiting staff and reviews we had read were heavily pushing us towards
the Brontosaurus Steak but 1.5kg of steak just seemed too much, both in terms of appetite and wallet (RM11 per 100g). So we 'settled' for a rib-eye ('fantastic'), beef fillet ('superb, really great'), and spare ribs ('yep, can't complain' – from the least effusive member of the group). Not less than we had expected but satisfying nonetheless. Which also goes for the mushrooms, chips and mash that we ordered and tried in vain to finish alongside the meat.
We daren't even look at the dessert menu for fear of our bulging bellies
exploding, but the wag in our party couldn't help but ask whether we weren't
sure about one last plate of carpaccio before heading home. The pause before the laughter telling its own story. YP Lee
Awards
Food Awards 2010 and 2011

Meatworks was shortlisted in the Best Steak House category of the Time Out KL Food Awards 2010 and 2011. Our food awards are 100% voted for by the people of KL. This way, we guarantee that popularity and consistent performance is rewarded.
Venue name:
MeatWorks Solaris Mont Kiara
Contact:
Address:
2G
Block H, Jalan Solaris 5
Kuala Lumpur
50480