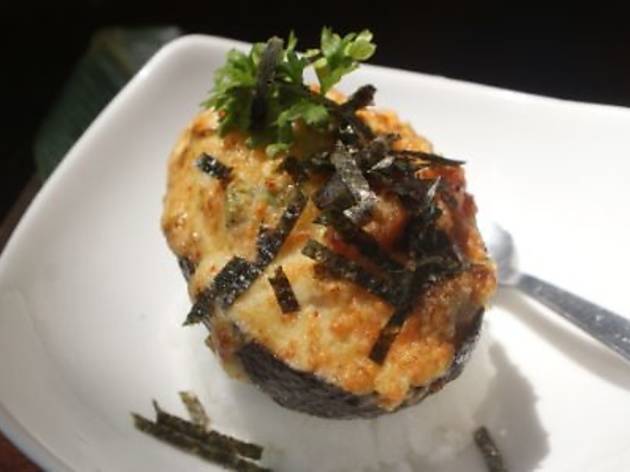 January 2014

Mikan's deserted location at Damansara Perdana doesn't help its cause. You'd expect the restaurant to be bustling on a Saturday evening but during my visit, it was just me, and Alicia Keys serenading 'No One' in the background. How apt.
But hidden under this is some reasonably solid cooking. On my visit, the mainstays had the attitude of contemporary Japanese dishes, offering a taste of Italian fusion in the form of sashimi carpaccio, foie gras sushi roll and tiger prawns in truffle sauce. The sashimi carpaccio – a platter of sliced white tuna, maguro and salmon emblazoned with fried garlic and basil sauce – wowed without confounding. The extra splash of citrusy ponzu sauce worked perfectly as the rough equivalent of a vinaigrette.
Enough modern flirtation for the night; I was more curious if they could perfect the classics. I skipped the foie gras sushi roll for an all-time favourite: dragon roll. The luscious makimono – a mosaic of layering textures between the crispy prawn tempura and soft avocado – was the sort of dish that'll make you question the need for foie gras. My spider temaki swelled with crispy soft shell crab, and each crunch was a nod to the perfect crab-to-batter ratio.
At Mikan, their seared scallops (four in a plate) shine just beneath the creamiest mentaiko mayo. Too often scallop is a meat left to fend for itself but here the chef took it to seductive heights – the dish was obviously crafted by someone who likes to eat. But whether you feel the dish is worth RM42 is debatable – each of these scallops was just the size of a small strawberry.
The restaurant's wood-inspired décor is inviting; the staff friendly and engaged. What bothered me however, was the aching gap between service when clearly, I was the only diner. Prices here are a bit steep but then again, raw fish is not something you want to be cheap with. Mikan's unshakable belief in the importance of fresh ingredients is admirable but they've got to do better than okay to survive in a neighbourhood bogged down by abandoned shops. Kong Wai Yeng
Venue name:
Mikan Japanese Cuisine
Contact:
Address:
LG-03 Plaza Emerald North, U8/3A, Damansara Perdana
Petaling Jaya


You may be interested in: