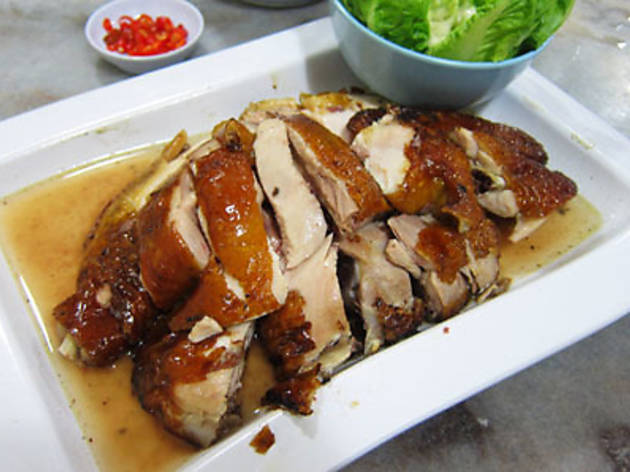 April 2014

You'd never guess from its humble exterior but a daring experiment is underway in a nondescript restaurant at Taman Mastika. Mastika where? It's in Cheras, where the proliferation of Chinese restaurants is as rampant as hipster cafés in the city. It seems unwise for a double-storey restaurant to set up shop in a sleepy commercial area but this also means that competition isn't as fierce. After all, My Restaurant – having been open for less than a year – has nothing to worry about as its business rests solidly on the quality of its homey food.
This is a restaurant that holds tradition in high regard but that's not to say the fare isn't inspired. The chefs have taken classic dishes and updated them to reflect modern sensibilities. The claypot braised pork tendon exemplifies the nose-to-tail style of cooking that's so prevalent these days. Braising is an excellent way to tenderise rough cuts and retain the flavour of the meat. In the claypot, pork trotter, ribs tendon and siu yuk are simmered in dark soy sauce and scallions until the broth thickens and the meat is fork tender. A few dried chillies are thrown in to lend a bit of heat, but they don't draw tears. It's a virtuoso display of the different parts of the pork, and you will need rice – lots of it.
It's clear that My Restaurant's emphasis is on fresh ingredients and labour-intensive preparations, as demonstrated by the hau sui gai (literally translated as 'saliva chicken'). This may seem like ordinary roast chicken but here's the kicker: The bird is painstakingly smoked with tea leaves and then baked. Only quality tea leaves are used so that they impart the best flavour and colour. Salty, moist and kissed with a subtle tea fragrance – this is one smokin' hot chick indeed.
You should probably complement these hearty dishes with something less overpowering like tofu. Though seemingly bland, bean curd can be a blank canvas for adding all sorts of flavours. I ordered mine pan-fried, and the result was golden brown and generously topped with minced pork and parsley. It's a dish that seems rustic and effortless – almost thrown together.
The staff here may not seem too eager to please and the prices are a bit steep, but the food shows serious polish and inventiveness, enough to carry My Restaurant through. The eatery's name actually means 'ka heong' (hometown) in Cantonese, and it's exactly their excellent home-style dishes that'll make you a regular.
Venue name:
My Restaurant
Contact:
Address:
73 & 73-1 Jalan Mawar 15
Taman Mastika
Kuala Lumpur


Opening hours:
Daily, 11.30am-3pm, 5.30pm-10.30pm
You may be interested in: