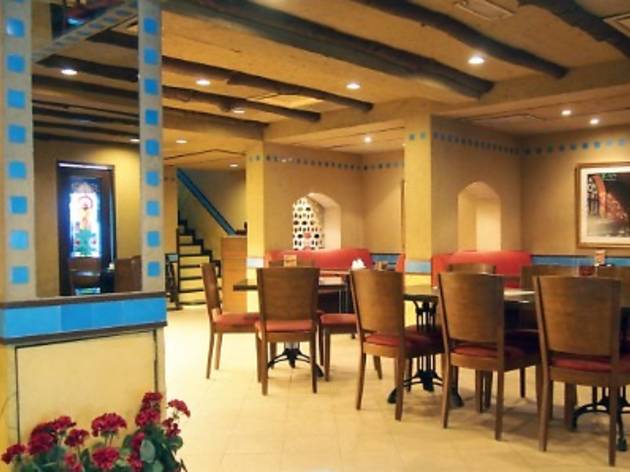 Time Out says
February 2012
I can guarantee pretty much every reader will have seen this restaurant, but how many of you have actually eaten here? How many have dismissed it as being 'too touristy'? I was determined to find out the truth behind this institution of dining in the heart of KL's tourist belt, Jalan Bukit Bintang.
Taking a seat inside, the dining room is spacious and simply decorated in authentic Middle Eastern style. In the centre of the room is a low fountain that could easily – but I suspect doesn't – double as a footspa.
I was there on a weekend lunchtime, so it was relatively busy but there were plenty of tables spare. My initial feeling was one of disappointment that all their lunch specials are western dishes such as pasta or chicken chop. Why would anyone order those in an Iranian restaurant in Malaysia? Sadly, I suppose they do.
First up was a baba ghanoosh. You only get one piece of bread, although it was large and fresh. I needed another but was delighted that my initial reservation about the appearance of the baba ghanoosh – excuse my frankness but it appeared like it had been produced by a cat (either end) – was hugely misguided. It was absolutely delicious. It had a fine consistency and melded numerous flavours into one sensational whole. It had the feeling of an age-old recipe passed down through generations and continued with pride. Exactly what you'd hope for with cuisine from this part of the world.
For main course, it had to be kebabs and having ordered a selection, I can report high marks all round. The meat is remarkably juicy, tender and literally dripping with taste. Slow cooking and proper marination/storage is the secret here I fancy. The lamb and chicken were both excellent and I would be hard pressed to decide next time I return if I was only allowed to eat one or the other.
The lamb shanks were another example of how Naab get the important things right. Another authentic recipe and another display of correct preparation meant that the shanks were divinely soft, the meat falling gracefully off the bone as mother nature intended.
To wash everything down they brought me a rather strange cucumber drink, which tasted absolutely beautiful. Refreshing and light and the perfect accompaniment to the meal. In fact, their drinks menu should stop at the excellent offering of blended juices rather than dilute itself into soft pop, but – as with the specials – they are, I suppose, duty bound to cater to the lowest common denominator.
Which was my only tinge of sadness with dining at Naab. The food is good, really good. But thanks to their location half of their menu is compromised and they serve things to appeal to the palettes of international visitors rather than enthusiasts of Iranian cuisine. This says more about global tourism than Naab however, and personally I wouldn't hesitate to go back. Matt Bellotti
Awards
Food Awards 2009 and 2012

Naab was shortlisted in the Best Middle Eastern category of the Time Out KL Food Awards 2009 and 2012. Our food awards are 100% voted for by the people of KL. This way, we guarantee that popularity and consistent performance is rewarded.
Details