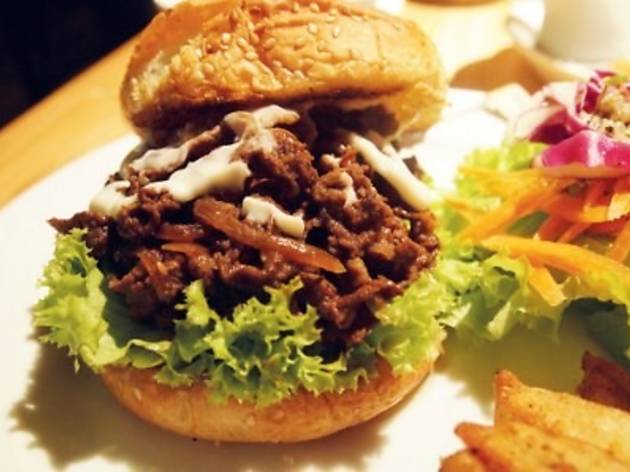 Time Out says
September 2012
Subtlety has never really been K-Pop's strong suit. The bands are often seen in glitzy outfits while Korean soap operas have a penchant for over-the-top melodrama, so it came as quite a pleasant surprise to find the city's latest Korean establishment understated and quirky without being overly cutesy. Located directly above the MPH bookstore in Publika, Namoo on the Park is well-hidden, with no attention-grabbing signboard outside the small entrance.
The wood accent-heavy café (tree is 'namoo' in Korean after all), which boasts friendly service staff and an alfresco dining area in a dim and cosy setting, has all the makings of an intimate space to catch up with friends over a cup of Joe, or in Namoo's case, a warm sip of soothing yuza tea. This traditional Korean citrus tea is rife with zesty flavour, but for the more daring diners, the light and foamy sweet potato latte is an unorthodox place to start. My companion and I resisted the temptation to choose from the plethora of novelty desserts straightaway, instead turning our attention to the eclectic food menu, which comprises rice burgers, steaks and tacos among the usual Korean culinary suspects of rice and noodle dishes.
We ultimately opted for the bulgogi beef burger and a bowl of white kimchi cold noodles. While the delicious burger left me craving more with its well-marinated thin slices of beef and fresh salad, the noodles on the other hand left me a little cold. The generous helping of springy noodles was overshadowed by the lack of toppings in the mildly sweet kimchi-centric soup, though the cold dish should prove popular among vegetarians.
While our mains were served briskly, the desserts and snacks took longer to arrive. But when The King's Ttuk Bok Gi did belatedly make an appearance on our table, the rice cakes with mozzarella cheese resembled an Italian lasagne more than a Korean celebratory dish. The rice cakes, which are made from steamed glutinous rice flour, tasted like a cross between chee cheong fun and fried Chinese carrot cake, resulting in an all-too-chewy texture that was not aided by the overly spicy accompanying chilli sauce. Fortunately, the subsequent The King's Bing Soo was a fitting end to an overall pleasant meal, as the massive bowl of green tea flavoured shaved ice complemented the creamy vanilla ice cream and mushy red bean paste nicely.
With all the different sugary treats available, it's easy to see why Namoo prides itself on being the first Korean dessert café in Malaysia, and the outlet's savoury highlights, except the ill-fated Ttuk Bok Gi, are no pushovers either. While the Hottuk Pancake (Korean-style pancake with mixed berries jam and ice cream) might not capture the global imagination like, say, SNSD or Big Bang, fans of authentic Korean cuisine with an adventurous streak and a sweet tooth will be spoilt for choice at Namoo, which is certainly a culinary step up from the ubiquitous Korean BBQ joints mushrooming around the city. Wong Boon Ken
Details