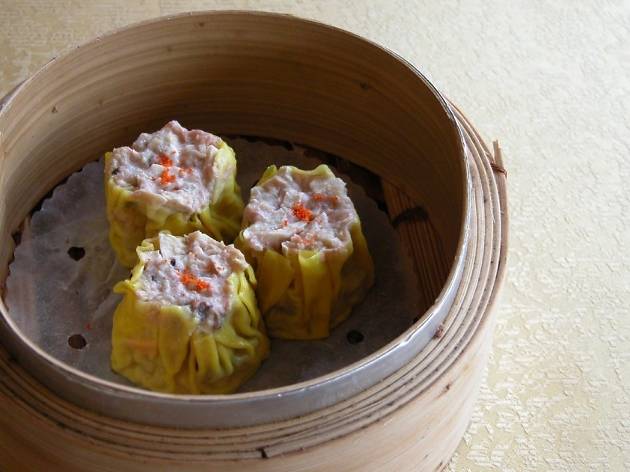 Time Out says
November 2012
I flirt with vegetarianism. But like most of my flirtations, my attempts at a dalliance with the non-meat section of the menu never seem to take off. At most I've given in to a silken tofu dish to complement, rather than replace, the braised pork ribs, chicken in black bean sauce and steamed fish with ginger, garlic and spring onions.
But when my vegetarian relatives came for a visit, there was no running away. Not for them the side dishes at my usual haunts; they weren't going to be happy with the insipid afterthoughts which usually accompany my robust meaty mains. Nope, we were going to a pure (this means no alliums) vegetarian restaurant, which is how I found myself ensconced in the quirkily befitted dining room of Nature's Vegetarian.
This was not a place I had seen myself walking into, let alone dining in. It's cluttered, with etchings of Chinese folklore characters vying for space alongside what seems to be a multitude of Buddha images in just about as many configurations.
We had arrived too late for their speciality (vegetarian dim sum), which they stop serving at lunch. Next on my 'only order what you recognise' list were noodles and of this, they had plenty. Nature's Vegetarian's noodle dishes are famous among the veggie community, homemade as they are and said to have a uniquely springy texture that's hard to duplicate with factory-made mee – which I can now wholeheartedly vouch for.
The noodles, described simply as special fried mee on the menu, were excellent. Doused in thick black soy sauce, each strand was full of flavour with the distinct taste and aroma of wok hei. There was major caramelisation going on and my tastebuds were having a party, relishing the sweet, savoury, salty sensations coating my tongue. The noodles were generously studded with cabbage, foo chuk and choy sum, adding texture to taste.
Also doing the rounds on the lazy Susan were butter mushroom 'snails', claypot bean curd, sambal petai fried rice, kai lan with oyster sauce and fried lotus root in marmite sauce. I tentatively aimed my chopsticks at a 'snail'. Escargot these were most certainly not. Instead they were lightly battered oyster mushrooms, juicy and chewy on the inside, crisp and crunchy outside. The batter had taken on the texture and consistency of puff pastry, a mean feat, and I was literally forced to eat my words when it came to the final mushroom on the plate, my chopsticks delving in ninja-like to snag the last delicious morsel.
This was a trend to be repeated throughout the evening. As dish after dish came my way, I felt my initial reservations being replaced by a new-found respect for what was happening here. My all-time favourite tofu dish (and one I had neglected of late) cooked in a claypot, was as silky and quivering as I had expected it to be. A slick of sauce, a crunchy carrot slice on the side and a mouthful of rice was all it took for me to resume my love affair with the bean curd.
Sambal petai fried rice with its generous heaping of petai and vegetables as well as some mock meat had a reassuringly hefty kick of heat that caught you in the back of the throat if you weren't careful. What was truly impressive was how the chef had nailed this dish without resorting to the use of garlic or onions. My respect continued to grow. We had this dish with kai lan in an attempt to dampen the fiery spice and it proved to be the perfect accompaniment. The oyster sauce in the vegetable played a perfect foil to the sambal-y goodness of the rice.
As great as these dishes were, nothing came close to the star of the evening: fried lotus root in marmite. Having only ever had marmite pork, I was blown away by the textural sensation of this dish. This wasn't soggy or slimy as I had feared; this was crispy, tender, succulent. And oh so beautiful to look at. Slightly bitter with tons of umami, it's a dish that may not be to everyone's liking but it won this girl's heart.
So have I forsaken the lure of meat for the gentle delights of vegetarianism? I'm afraid not. But what I've realised is that vegetarian food, when done well, can more than stand up to a plate of pork. And that's something worth remembering. Anucyia Victor
Details
Address:
24 Jalan Telawi 3
Kuala Lumpur
59100

Contact:
Opening hours:
Mon-Fri, 9am-10pm; Sat-Sun, 8am-10pm
Users say