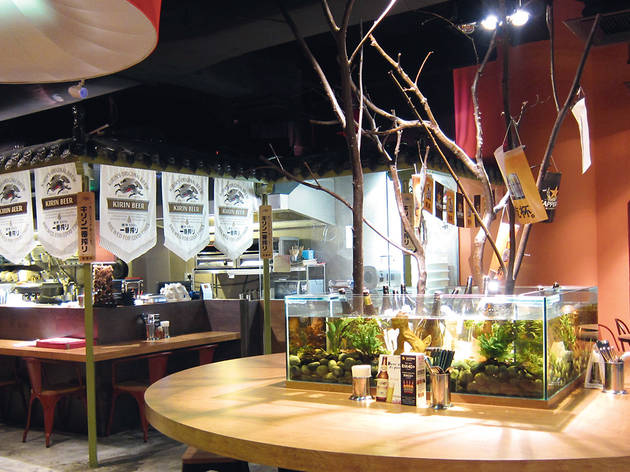 Time Out says
These days the Vietnamese staple, pho, has crept into cafés, food courts and Chinese restaurants in KL that claim to be 'pho experts'. The ubiquitous beef noodles have been warped to please the Malaysian palate but offend purists – like curry pho, which is just hor fun drowned in chilli paste. What a pho-ny.

So it's only natural to assume that an Asian-fusion noodle bar and grill like Niú Taste (established by the team behind Black Market Restaurant) will deprive you of satisfying pho. But no, you'd be surprised to hear that the version here is almost everything the popular street food should be. Spices and herbs give the broth a strong underpinning of seasoning, pumping flavours into the ingredients comprised of shaved beef, tendon, tenderloin, shank, stomach and beef balls. Stir in a mound of fresh basil leaves and watch them wilt in the steaming, cloudy stock to perfume the silky flat rice noodles.

Good quality beef appears to be the trump card for Niú (Chinese for beef, geddit?) Taste, as the chefs dish up decent Taiwanese red-braised beef noodles. Although the soup is hardly feisty by KL standards, the springy homemade noodles have a lot of 'Q' (Taiwanese lingo for 'chewiness'). The addition of chopped carrots and romaine lettuce seem gratuitous at first, like a Chinese parent's trick to make you eat your greens, but the vegetables actually lend sweetness to the broth.

Niú Taste stretches its Asian-fusion influence further with Japanese-inspired dishes like lamb loin saddle and grilled Alaska crab leg. The former was disappointingly rubbery when I tried it, ameliorated only by generic-tasting teriyaki sauce. But the Alaska crab leg, grilled with just a pinch of salt, was possibly the best thing I had that night. The flesh was juicy, firm, buttery and briny all at once – I just wanted to cuddle up with a saké and suck on those legs.

The restaurant has been put together with intelligence and taste as demonstrated in its decor heaving with Chinese statues, orange walls, giant lanterns shaped like bobbing jellyfish, and a Japanese bar. As for the food? Some plates were forgotten the moment they were cleared; some were pulled off with sheer simplicity that made indelible impressions. Sure, Niú Taste had a few misfires but you'd still appreciate its bold attempt to make Asian cuisine interesting again – after all, this is a restaurant that serves carrot juice in a shot glass.
Details