Nong & Jimmy Thai Seafood BBQ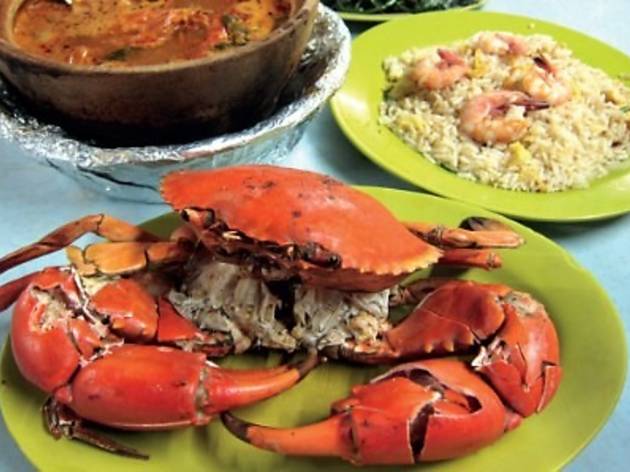 Time Out says
August 2012
It's the sound of crushing pinchers under the mallet that makes the ambience of this neighbourhood eatery by the roadside. Everyone is cracking a shell open – snapping, twisting and sucking out the best bits of Nong & Jimmy's signature dish: the BBQ crab. These Indonesian crustaceans spend a good ten minutes on the brazier as the staff toss them around in the roaring flame. All the action takes place in a shack, under a tree, next to a house and opposite some low-cost flats. There's no wait for a table, and brusque servers dart around the place like they're stepping on hot bricks.
Owner Jimmy set up his restaurant in 1994 based on a simple reason – his wife, Nong, is of Thai descent. The chefs he hired are Thai as well, and they draw on their cultural background to bring homecooked flavours to the table. Food here is not out to challenge you but pick wisely as they may prove spicy enough to trigger sweat, tears and intestinal discomfort. So I went with my gut, literally. I began with the chakoi – deep-fried crullers reminiscent of mini yao char kuey. You dip them in kaya, and they are so addictive you may be tempted to cancel the rest of your order and binge. The fried rice on the other hand held a subtle smokiness – the egg coated every grain, the shrimps fresh and plump, the grease stayed on the plate and not your palate. Food wasn't spicy so far. No sweat.
But of course, I was wrong – the fiery minefield lay much further ahead. The tom yam was searingly aromatic, offering a punchy mix of ingredients such as lemongrass, kaffir lime leaves, prawns, button mushrooms, tomatoes and squid. The spiciness was no walk in the park but it banished the rainy chill outside as long as the bowl lasted. The stir-fried kangkung didn't paralyse the tongue as much but the hefty sambal belacan would dismay a spice-wary diner.
Not every dish was a triumph. If you crave juicy grilled crab, crave it somewhere else. Their much-raved about specialty was overcooked and its legs shrivelled to a meagre width of a chopstick. The claws stored all the meat – they were sweet but dried out. The table next to me didn't seem to mind and replenished their plates with more crabs. Perhaps it was inconsistency. Perhaps the crabs could be more desirable in curry, black pepper or other variations the restaurant offered.
Nong & Jimmy redeemed their missteps with quick service, authentic food and fair prices – a combo that dictates their success, if massive crowds are any indication. There's still a leaky roof somewhere in that restaurant but who cares? I left fully sated. Kong Wai Yeng
Details