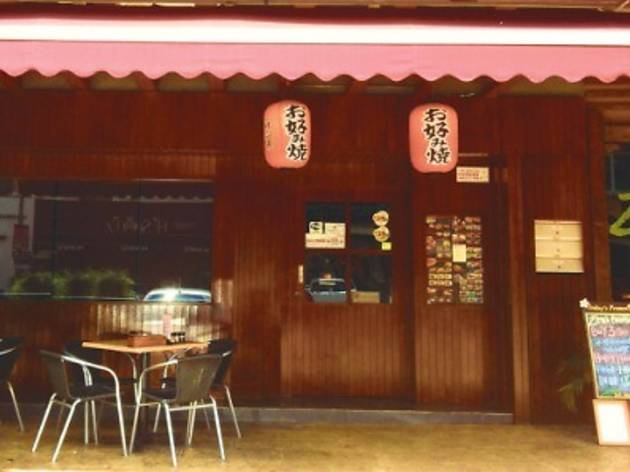 Time Out says
Friendly warning! We're working hard to be accurate. But these are unusual times, so please check that venues remain open.
July 2013
Curiosity, a lingering hankering for some lively ramen and a favourable blog review compelled me to visit Okomen recently. Although purporting to specialise in okonomiyaki – roughly meaning 'what grilled items do you fancy?' – the restaurant seems also to be hedging its culinary bets because the menu straddles the fence between conventional and utterly bizarre.
On the right side of normal, an exhaustive array of ramen is served with a 'secret recipe chicken soup base that's boiled for 18 hours' which is 'specially created' by the resident chef. Together with such ramen soup staples as pork, fragrant garlic oil, leeks, spring onions, a squishy seasoned egg and cabbage, Okomen's ramen accompaniments include featured ingredients like simmered pork belly (cha shu buta), pork cheeks (tontoro), seafood (shio kaisen) and even Hokkaido snow crab leg (zuwai kani). Despite a rather prodigious use of chilli flakes and seasonings, the Okomen ramen I ordered was disappointingly vapid and the soup just not hot or zesty enough to make the noodles come alive. I had more luck with the Kyushu miso tonkotsu selections (I begged a bowl of the soup to try). Here, the pork broth is given a well-judged de fibrillation with the cunning addition of miso. The kara miso ramen with a spicy miso based soup is ideal if you're after a feistier mouthful, but don't overlook the more complex – and ultimately more rewarding – shiro miso ramen which is served in a white soybean based soup that's also been embellished with a 'specially mixed' spicy miso.
In the okonomiyaki section, the yakisoba and seafood in an okonomiyaki crêpe is unrelentingly over-the-top both on the eyes and in the mouth. Totally contravening the spirit of okonomiyaki, which was conceived during wartime Japan when the scarcity of ingredients meant that simple staples like the wheat pancake became an essential meal, this surfeit of everything in a bowl is also, in a culture that is usually so restrained, an unexpected – and not entirely welcome – exception to the rule.
But wait, there's more. A scarily monikered prawn mayonnaise teppan and potatoes cheese teppan promise still more profligacy, and the echoes of Kim Gary's style of 'cheese and everything' kind of cuisine should be, at the best of times, given a wide berth.
Still, bizarre cheese infested dishes aside, there is reason to hope: crispy julienned sweet potato in the gobo karaage and crispy strips of pork belly are delicate and voluptuously flavoursome. Just remember, if it sounds weird at Okomen, then it most probably is. Fay Khoo
Details