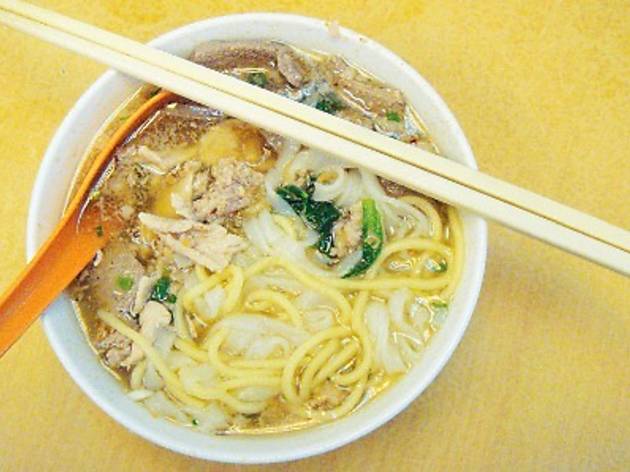 Time Out says
February 2012
I first stumbled across Ooi Noodle House on a search for weekend brunch in the maze of Subang Jaya Uptown. Amid closed shops and other cafes so quiet they might as well have closed, I was stunned by how packed Ooi Noodle House was. More stunning still was the waitress's firm warning that it would take an hour for their signature pork noodles to be served.
Looking around me, it seemed everybody else already knew this. Teenagers had brought playing cards, Chinese uncles were reading newspapers, families snacked on their own food. Clearly, they had come prepared to wait. KLites are not exactly known for their patience, so I had to wonder what was so special about these noodles.
Ooi Noodle House itself is kitted out in simple kopitiam style, with enough tables to seat about 50 people. Just next to the main indoor shop, there's an outdoor area where one man and his wife cook up all the noodles at a stall with a single stove (which explains the wait). The menu is simple: pork noodles large bowl pork noodles small bowl. You can choose your noodles from a mixture of mee, mee hoon and kuay teow, go for a straight portion of mianxian. An egg on top is optional.
The first time I ate here, I admit I was too hungry to wait for the noodles. So I went to order from the only other vendor sharing the space, a barbecued pork and roast duck stall. This turned out be no consolatory meal, however: although not as popular as the noodles, the roasted meat here is outstanding. Succulent slices of duck and crispy, tender siew yuk are served up with fluffy, buttery rice infused with delicate stock flavour. It arrives with a small dish of fresh chilli sauce mixed with garlic and lime juice, which gives each mouthful a zingy kick before yielding to the sweet plum sauce. It's a simple dish done amazingly well.
When I next came back to Ooi Noodle House, my brunch buddy and I arrived determined to try the actual noodles. In the process of waiting, I discovered another extraordinary fact about this place – the staff have superhuman memories. They don't write down orders or use table numbers, but somehow everyone ends up with the right thing. Doubt this aloud and you'll feel the brunt of their tempers, which are as short as the wait is long.
In the end, it took 50 minutes for the noodles to arrive, but less than one minute to realise why Ooi Noodle House is so popular. It's all in the broth. Deliciously rich, it's clouded with the remains of long-simmered stock ingredients and you can taste every one of them. Beneath layers of savoury goodness, an insistent sweetness emerges from the shallot which complements the pork perfectly. It would blow you away if only you weren't too busy slurping the stuff.
The soup could serve as a meal in itself, but of course there's more: an abundant mix of pork pieces, liver, intestine and tender clumps of minced meat, a scattering of choy sum and the actual noodles. Finally, the deal closer: hidden gems of pork crackling that crunch into deliciously sinful trickles of fat.
So, was it worth it? It's hard to say. There are many excellent pork noodle soup outlets in KL and most don't keep you waiting an hour. The location is also out of the way for anyone who doesn't happen to find themselves in Subang Jaya. But if you're a noodle soup fan with patience and a little time to spare, you'd be a fool not to try Ooi Noodle House at least once. Ling Low
Details