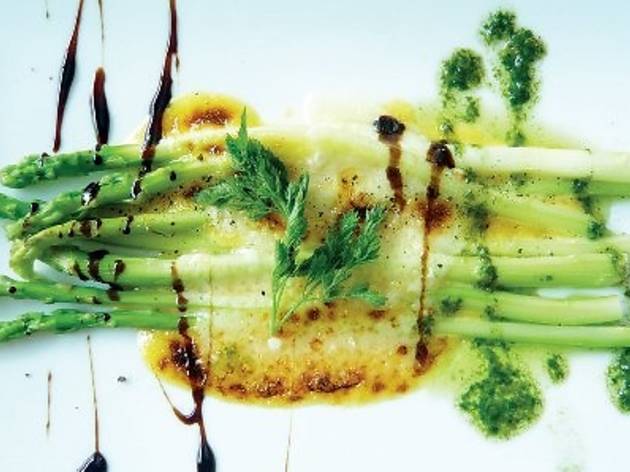 February 2012
Maybe it was the deluge of Italian restaurants that mushroomed throughout the Klang Valley in the last two years, or it could even have been the overwhelming renaissance of Italian food in Kuala Lumpur that compelled the owners of Pietro to set up shop. Nevertheless, a vast abyss separates ambition and capability; just because you want to own a lucrative continental eatery doesn't necessarily mean you will be any good at it. And so unfolds the tale of a promising Italian restaurant in a location where it had every reason to be a thundering success, but hasn't quite made it. Yet.
Don't get me wrong. Far from being a tragic outlet with substandard furnishings, inferior service and bad location, Pietro's has all the ingredients to augur it well. A 'well-appointed' address in yuppy Damansara, more than competent waiting staff, and an interior that is smart, if somewhat staid, with a smattering of cunning selected artwork to lend it a bit of pep.
All that notwithstanding, it's the menu that ultimately lets it down. Limited, but without any attendant items that invoke excitement or enthusiasm, it's rather pedestrian and encourages an anti-climactic feeling of 'been there done that' even before the order has been placed.
And the food, when it arrives (the items that are available, that is), is by and large competently prepared, but lacks the je ne sais quoi that ensures it stays lodged in your sensory memory and nags to be revisited again and again. To wit: the insalata caprese with blobs of pesto sauce was satisfactory but ultimately beige. The warm asparagus with hollandaise sauce and parmesan shavings would have been better had the asparagus not been dried and wilted, while the pan seared scallops with rocket, parmesan, balsamico and yellow cherry confit sported a suspiciously similar pesto sauce to the caprese.
When the cappellini al aragosta was served however, the penny dropped. The slipper lobster in sundried tomato, chilli and white wine sauce bore a striking resemblance to a similar pasta dish at the now defunct Vincenzo. As it turns out, so did many of the other dishes, not least because – as I soon discovered – the two eateries had the same backers and kitchen team. The thoughts that had resounded with me when I dined at Vincenzo returned with a wet-fish slap of déjà vu to haunt me now. Ambition versus capability. Competent versus spectacular food. If one thing can save Pietro, it's that the past can be a lesson that the future would do well to learn from. I for one pray for their epiphany. Fay Khoo
Venue name:
Pietro
Contact:
Address:
Ground floor, ECM Libra, 8 Jalan Damansara Endah, Damansara Heights
Kuala Lumpur
50490

Opening hours:
Daily, 11am-3pm; 6pm-11pm
You may be interested in: