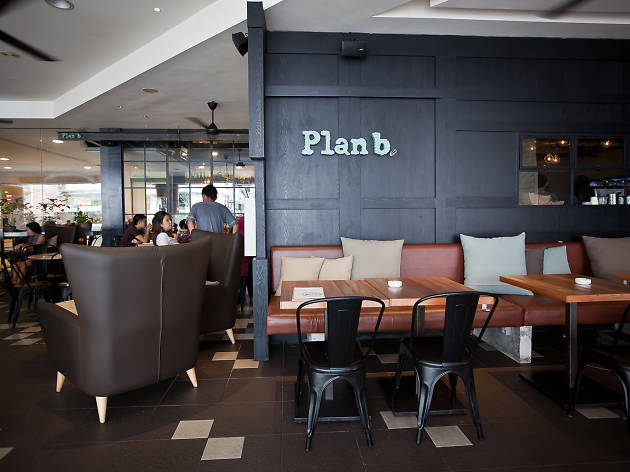 February 2011
If there's a manual to succeeding in the food business, the owners of Plan B must have read it through assiduously, because their new eatery seems to tick all the right boxes. There's the as-good-as-it-gets location smack bang on the ground floor of Bangsar Village. There's the artful logo with the droll tagline - 'when life gives you lemons … make lemonade' and 'always have a plan b'.

There's the cunningly cool industrial inspired décor replete with bare bulbs, copper piping and bare bones cement floors. There are even three tellies showing an endless loop of P. Ramlee movies for a good dose of Malaysiana. And then there's the menu. The menu of Plan B is a hands-down winner in the desirability stakes. And if the measure of a good menu is its ability to induce in customers a strong urge to order everything on it, then Plan B has hit the gastronomic jackpot.

Happily, Plan B's food doesn't just sound good, it tastes bloody fantastic as well. From simple sandwiches and salads to pastas and cakes, all the food share the distinction of being quirkily and completely original. A crispy duck salad, for example, is partnered with such unexpected ingredients as watercress, orange slices and maple syrup. The marriage may be unorthodox but it's thoroughly enjoyable.

Lashings of caramelised onions, a perky side salad and perfectly fried sweet potato and yam crisps turn a simple duck confit ciabatta into a bistro delicacy while ubiquitous staples like the mushroom soup is a reasonably priced bowl of chunky, hearty, mushroomy goodness. Apart from a smattering of local dishes like nasi lemak and Nyonya laksa – perhaps included to pay homage to Mr Ramlee – the main courses are by and large western. The signature spicy crabmeat linguine is served with a tomato-based sauce that's infused with lemongrass, kaffir lime and prawn oil. The result is a delicately flavoured pasta that lingers on the palate long after it's been eaten.

Desserts are, in a word, stupendous. If you have a sweet tooth, Plan B will be your nirvana. The muffins, chocolate truffle tart and macadamia cheesecake are just some of the bistro's many masterpieces.

Sadly however, the owners may have neglected to read the chapter on service, because the service is so appalling that it makes me leery of going back, no matter how good the food is. Every time I've eaten at Plan B – and believe me, I've given it many chances – I've had to wait an eternity for my food. Until this is sorted out, the new management won't have to lose too much sleep yet.

Awards
Food Awards 2012

Benjamin Yongwas shortlisted Restaurateur of the Year in the Time Out KL Food Awards2012. Our food awards are 100% voted for by the people of KL. This way, we guarantee that popularity and consistent performance is rewarded.
Venue name:
Plan B Bangsar Village I
Contact:
Address:
Ground Floor
Bangsar Village 1
1 Jalan Telawi 1
Kuala Lumpur
59100

Opening hours:
Mon - Thu & Sun, 9am - 12midnight; Fri - Sat, 9am - 1am
You may be interested in: