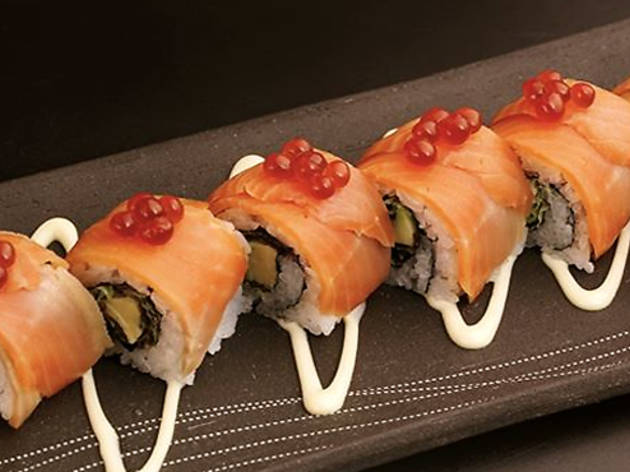 Time Out says
Situated in one of the quieter shopping malls in town, Rakuzen is home to some of the better Japanese food in KL. A popular restaurant, you'll be lucky if you are immediately seated without a reservation, especially during dinner when the restaurant is packed. I waited 35 minutes for a table but it was worth it.

The restaurant is tastefully decorated with bamboo, giving it a relaxing and tranquil feeling. It is divided into a sushi bar section and the rest of the restaurant is divvied up into rooms with private booths of various sizes. Some of the booths have sliding doors which allow them to become private dining rooms, sealed off from the rest of the restaurant. There are often Japanese diners in the various booths on business dinners which speaks volumes for the quality of the food.

One thing that you will notice in Rakuzen is the extensive menu, with a variety of speciality dishes. What Rakuzen is known for, however, are their dragon rolls which are made with tiger prawns, fried tempura style and then wrapped in sashimi rice together with mayonnaise, topped up with roe and thinly-sliced avocado. Though you can find them in other Japanese restaurants in town, Rakuzen's are on a different level altogether. As soon as the pieces touch your tongue, you taste the freshness of the ingredients and the soft yield of the rice and avocado slices, before tasting the crispy tempura batter and the sweet flesh of the prawn. A visit here is simply incomplete without ordering this.

Also, a personal favourite of mine is the chawamushi. Not a fan of this dish elsewhere, I do like the Rakuzen version which is fresh and creamy without the slight fishy smell you find elsewhere. Once again, the freshness of the dish is impressive, a theme that repeats throughout the menu. From the tepanyaki and teriyaki, to the gyudon and soba, you will be hard-pressed to find fault with the dishes served. The service is also excellent, with the wait staff blending into the background, appearing only when you need them. Though the price is slightly on the pricier side, the quality of the food makes up for it tenfold.

Awards
Food Awards 2010, 2011, 2012 and 2013

Rakuzen was shortlisted Best Japanese in the Time Out KL Food Awards 2010, 2011, 2012 and 2013. Our food awards are 100% voted for by the people of KL. This way, we guarantee that popularity and consistent performance are rewarded.
Details