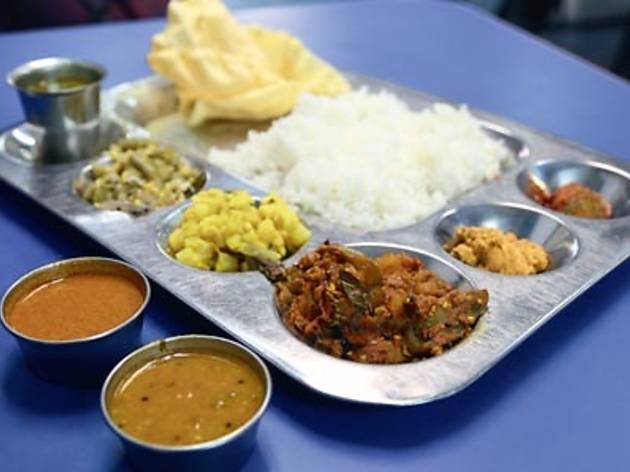 For a restaurant stationed amidst the commercialised chaos and colour of Little India, Chat Masala is surprisingly decent. The decade-old vegetarian restaurant hasn't yet achieved the status of 'institution', an honour often associated with Vishal's at Jalan Scott. But will it ever?
South and North Indian cuisine is Chat Masala's speciality – or so it says on the signage, an unfocused claim we put to the test. The menu is way too long (when will Indian restaurants learn?) but the well-versed waiter promptly recommends the signatures, which is how we land on the ubiquitous rava dosa, an entry in a peculiarly titled section of the menu: Evening brunch. Executed impeccably, the dosa is nicely crisped, rightfully thin, not too oiled and distinctly tasting of semolina. A dab of coconut chutney rounds up the flavours.
The uttapam and idli fared similarly – fluffy and slightly dry without the curse of overfermentation. To soak up the carbs, we go North with a classic palak paneer (fresh cottage cheese in spinach puree) and dal makhani (a rich stew of lentils and spice). The number of mock meat options is disgracefully high, but we steer clear of those.
At Saturday lunchtime, we head in again for a good thali set. It's not your overloaded thali tray, but a few standout sides are hastily served around rice and chapatti. Some are onions cooked in coconut (tasting more Keralan than Tamil), potato in turmeric, mushy pumpkin gravy and a singular laddu. Condiments include yoghurt (to mix with rice), moru (resembling buttermilk), rasam and a particularly tasty onion curry. It's not a thali set to leave you bloated but a more modest lunchtime fare that's easy to digest. On that note, the chapatti is below average – slightly stiff and lacking in freshness.
A milky post-lunch coffee and a toothpick are the only things we request as dessert. The iced Bru coffee is deliciously gau but tread with care around the masala tea, almost excessively heavy in spice, especially the ground clove. If you so incline, chat (snacks) is popular around the 3pm mark with a variety of puri (pani puri, masala puri, bhel puri, etc) and sweets. Even if you're not a regular at this restaurant, you might have noticed the alarmingly colourful sweets display along the five foot way. Yes, Chat Masala's location at the junction of Brickfield's peak hour congestion may deprive it of mystery, but it doesn't work too hard for it.
Venue name:
Restoran Chat Masala
Contact:
Address:
259-G Jalan Tun Sambanthan
Kuala Lumpur
50470

Opening hours:
Thu-Tue, 7.30am-11.30pm; Wed, 3.30pm-11.30pm
You may be interested in: