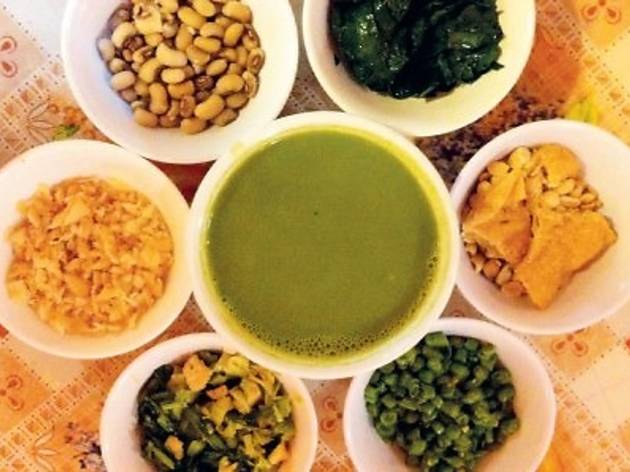 Time Out says
July 2012
Firstly, a caveat. If you haven't tried lui char before, you ought to know that it's an acquired taste and you'll either love or hate it. Secondly, the Hor Poh outlet of which I write is tucked away in deepest Segambut and it takes a tenacious soul to brave the hellish traffic and meandering roads to get there. If neither points are a consideration however, and I'm preaching to the converted, then this lui char eatery is a must-visit. Devoid of any aspirations to creating 'mood', the restaurant is bare bones basic but since it's the lui char you're after, the lack of aesthetics shouldn't be an issue.
Lui char, which is phonetically synonymous with thunder tea, actually means milled or ground tea, and named for the soup which makes this dish so distinctive. Made from a blend of mint, basil, saw tooth coriander and green tea leaves that's been grounded with a guava tree stump before peanuts and sesame seeds are added, and the whole lot is worked into a fine paste, the 'soup' is created when hot water is added.
I'd be stating the obvious when I say that it tastes very 'green' but there is a tangible perfume and back note to it that have a beguiling manner of insinuating themselves upon your palate. If at first the soup seems unpleasant, persevere. It's only the unfamiliarity of the taste that once it makes its acquaintance becomes exceedingly delicious. Served with garlic rice, and a clutch of such accoutrements as French beans, dried shrimps, sayur manis, beancurd, black-eyed peas, mustard greens, preserved radish, peanuts, sesame seeds, and leeks, the soup is best when mixed with the rice, side dishes and a smattering of sesame seed and peanuts. Because the soup has an unhappy tendency to turn cold before you can work your way through the mound of food, the best way to forestall this unpleasantness is to slowly add tea to the rice, thereby ensuring a suitably hot temperature is maintained throughout the gorge fest.
It's cheap, it's definitely cheerful (in my books anyway), and it's plenty filling, which explains why it used to be the poor man's food of choice when meat was an unaffordable luxury. And even though you might hate it (and, ipso facto, me, for recommending it), I urge you to try it at least once. Who knows? You just might be the owner of an enlightened palate. Fay Khoo
Details