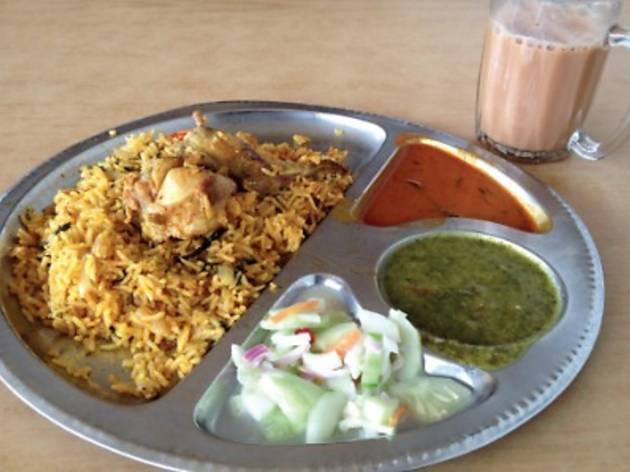 October 2012
Long before I ever ate at SA Bamboo Curry House, a friend told me that they had the best teh tarik he'd ever tasted. This was quite some claim, especially for a place tucked away in such an unassuming location. How unassuming, you ask? Well, let's just say that although SA Bamboo Curry House is located off Jalan Ipoh, it's the part of Jalan Ipoh that has not yet seen the developments further south of Sentul. In other words, you could call it Sentul, but Sentul might get offended.
Situated on a dusty road leading to a residential area, SA Bamboo Curry House is very much a neighbourhood mamak. But there are a couple of crucial things that set it apart. Firstly, the owners have invested in some slightly surreal water features, complete with sculpted fish, shells and deer, which are an odd – though not unpleasant – decorative choice for a mamak. Secondly, the food here is good. I don't just mean 'good' in the way that any fried food seems good when you're on a late night binge and have a craving for maggi goreng. I mean it's good in that it's fresh, hearty and tasty, prepared with homemade care by the family who runs the shop.
Ordering a teh tarik for myself, I found my friend had been right: it was indeed excellent. Unlike many teh tariks, the version served here is light, bubbly and refreshing, tasting sweet without leaving your tongue coated with a cloying aftertaste. However, it was the roti telur that really won my heart. Served whole, the deliciously crisp envelope was perfectly browned on the outside and layered with generous amounts of egg within. It was the kind of roti telur that you could quite confidently serve a king – alongside a teh tarik or Milo of course.
The other attraction at SA Bamboo Curry House is their appealing spread of curries and side dishes, served up each day from 12noon. I tried the chicken biryani and found the rice fragrant but the chicken disappointingly dry. The accompanying fish curry, however, was deliciously velvety, with a deep, almost caramelised tamarind flavour carrying through. The green spinach dhal was similarly satisfying: a wholesome and original twist on the standard dhal served up at mamaks across the city.
Although it's popular with locals, SA Bamboo Curry House's secluded location keeps it from being overrun with hordes of people. Even KL's most intrepid food bloggers haven't made it this far up Jalan Ipoh yet. But really, that's a good thing. The regular customers here know that there will always be a table for them to sit back with their plates, piled high with rice and curry, and relax over a long weekend lunch. At the end of the day, SA Bamboo Curry House is a neighbourhood mamak. And what that means is more roti telur for the rest of us. Ling Low
Venue name:
SA Bamboo Curry House
Address:
4 Jalan Cenderuh 2
Off Jalan Ipoh
Kuala Lumpur
51200

Opening hours:
Daily, 12noon-3pm & 7pm-12midnight
You may be interested in: