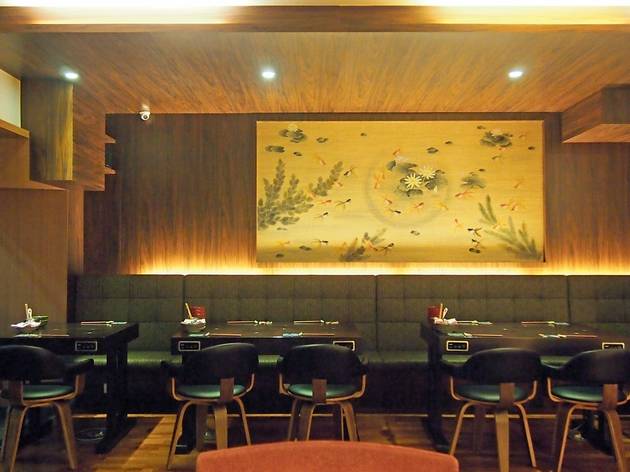 Even on a Friday night, Saryo Kyoto lacks activity. Yes, it's located deep in the heart of Plaza Damas but there were no signs of regulars who work or live in the area. Sometimes, a lifeless restaurant is a good thing; when you encounter a 'hidden gem' so far away from social media scrutiny, and you feel like it's a little secret you carry around in your pocket. But in the case of Saryo Kyoto, it's near-empty on a Friday night for exactly the opposite reason: it's forgettable.

On first impression, the staff was friendly in a way that they fussed over customers an awful lot. But when I asked about the differences between the types of green teas (priced in descending order), I got a lethargic reply: 'Taste different, ma'am'. I ordered a premium sencha variety, and the tea, though surely lovely in flavour, was too astringent when left too long to brew in the teapot. Yes, this is a common occurrence in restaurants, but when presented with a delicate Kyoto blend for RM15, surely some attention to timing isn't too much to ask for? After all, we were only two of four customers to look after. Between a waiting staff team of three.

To detract from the disappointment, the yakko tofu arrived and it was wonderful. It had the texture of custard that had been thoroughly chilled – melting with a full-bodied lushness. Topped with green onions, seaweed and katsuobushi, and dipped in ponzu, it was a rather nice start to the meal.

The beef shabu-shabu set came next and despite the RM43 tag, it was 85 percent vegetables and 15 percent beef. The beef – tender after a three-second dip in the pot of boiling water – was faultless, but the three slices didn't justify the price when the rest of the set was simply a pile of bean sprouts, cabbage, mushroom, two wedges of pumpkin and a few squares of tofu. My dining partner and I got through the foliage; sprout for sprout, shoot for shoot. By the end of it, we felt involuntarily virtuous for eating plain vegetables cooked in boiling water. That we cooked ourselves. I don't mean to diss an age-old Japanese tradition of cooking food myself in water (as Bill Murray's character famously did in 'Lost in Translation'), but my gripe is the price that comes with it.

At dessert time, we were given complimentary matcha ice cream topped with a biscotti-shaped piece of matcha cake – both of which were disappointing. The ice cream tasted a bit cheap and lacked the bitter potency of matcha while the cake was irreparably dry. Unsatisfied, I ordered a dessert of honey and lemon folded into mascarpone and it was much more pleasant, but the fake flower (stems and all) plonked on the cheese was a lazy presentation move. As I left, the staff bowed profusely and chanted their 'arigatos' in unison, and I melted a little inside. Well, the power of a sincere greeting to compensate an unmemorable meal.
Venue name:
Saryo Kyoto
Contact:
Address:
P-1-24
Plaza Damas
60 Jalan Sri Hartamas 1
Kuala Lumpur
50480

Opening hours:
Mon- Sat, 12noon-3pm, 6-11pm; Sun, 6-11pm