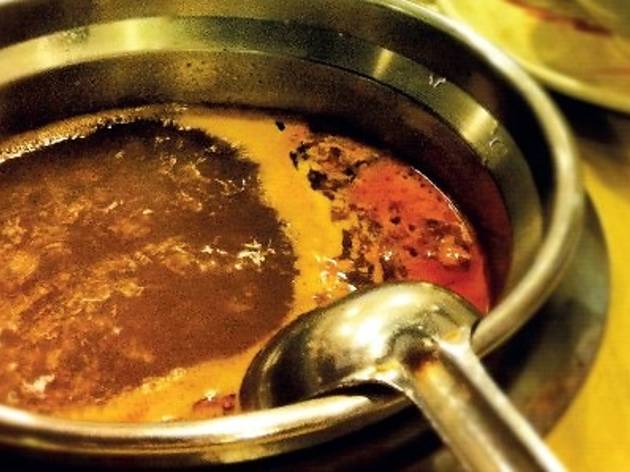 May 2012
Call me a snob but I've always regarded conveyor belt cuisine as being the lowest common denominator of food; it's the subrock bottom depths to which the culinary soul can plumb, and that's why I've consistently eschewed some of the sushi places. And yet curiosity compelled me to visit the quixotically monikored Sha Sha Roll Shabu Steamboat restaurant. Luckily it didn't kill this cat but several questions did arise immediately following my outing there.
The most obvious one (what is the meaning of Sha Sha Roll Shabu and what does it have to do with steamboat?) will probably forever remain an enigma unless someone volunteers the information to me. But the second, more crucial, query requires some examination, and that is why this idea hasn't taken off sooner and with more alacrity. It doesn't take Stephen Hawking to work out that prepping raw ingredients and popping them onto conveyor belts that sends said items to individual steamboats a) drastically reduces staff costs and b) is a potential gold mine for such enterprises as steamboat restaurants, that is, if you disregard salmonella and other pesky bacterial concerns that might plague you along the way.
And yet, and yet. On the night in question, I arrived sufficiently early to secure a ringside seat (which, I confess, they all are), and stayed long enough to witness the remarkable surge of hungry human bodies into the restaurant. It's a no-brainer, really. For RM31.80, you can consume as much steamboat Sha Sha Roll Shabu Steamboat as your body will contain (although a sign threatens to charge for food wastage), drink as many soft drinks or green tea as your bowels will hold, and embellish your steamboat with a limitless supply of fresh coriander, dressings, different chillis and an admittedly excellent supply of crispy, fragrant fried shallots. There's even a choice of soups (clear, miso or tomyam, or a combination of all three if that's what floats your boat) for your dinky little hotpot. What's not to love?
If you have an overly pronounced fastidious streak, you might baulk at some of the less-than-salubrious seafood that's diligently making its rounds, but judging by the blithe disregard for personal safety displayed by the other diners, food poisoning isn't a big problem here. I stuck to a diet of quail's eggs, vegetables, some noodles and sliced meat, and found to my surprise that I could not genuinely complain about the taste of the food. Perhaps I could have been more abstemious in my prodigal use of fried shallots and coriander but I left Sha Sha with a newfound respect for conveyor belt cuisine, and that's much more than I'd anticipated I could say prior to stepping into the restaurant. Fay Khoo
Venue name:
Sha Sha Roll Shabu Steamboat
Contact:
Address:
11 Dinasti Sentral, Jalan Kuchai Maju 18, Off Jalan Kuchai Lama
Kuala Lumpur


You may be interested in: