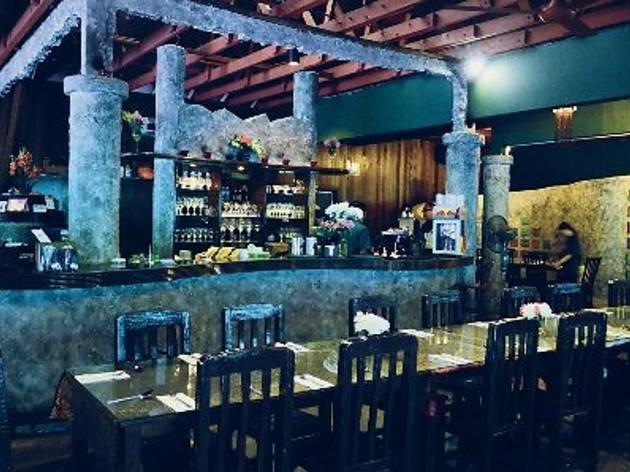 April 2013
Where do you get Malay food in the city centre? You want a roundtable nasi and lauk dinner – the whole Malay shebang – but nothing too fancy and expensive, and definitely not at a food court. For anyone who's ever pondered the question, you'll notice what a dilemma this is.
However, in between your food courts and high end Malay restaurants there's Songket, which offers Malay cuisine at slightly more reasonable prices compared to its fancier counterparts. Almost hidden behind the stretch of restaurants along Jalan Yap Kwan Seng, Songket is a quaint little restaurant whose décor suspiciously resembles one of its aforementioned peers, but with the addition of framed songket fabrics adorning the walls. There's even an alfresco dining area, but if you're thinking of a lush garden view you're wrong; you overlook the carpark.
Songket's menu features the usual Malay fare, with poultry, beef and fish as the mains. Upon ordering the rusuk salai berkicap (chargrilled marinated shortribs), we're told that we'll have to wait 45 minutes for it. Not wanting to miss out on the restaurant's signature dish, we went ahead with the wait and proceeded with the other offerings on the menu. As an appetiser, the otak-otak slightly redeemed the restaurant for making us wait for the shortribs. I'm used to streetside otak-otak (the ones I've had were always a deep red with overly charred sides and very little flavour), but this was something else; hot, fragrant and bursting with flavour, minus the unnatural red colouring.
When the mains arrived (minus the shortribs), I noticed some inconsistencies with portions. Some were served in large bowls (the masak lemak ayam nangka) while others were small and hardly enough for our group of five (the sup ekor). Luckily, the former was more memorable than the latter, but neither dish truly shone as much as the shortribs, which came slightly earlier than expected. Well marinated with just enough charring for a crisp, smoky taste, the shortribs are like your regular ones with a Malay twist – served with a side of spicy sweet soy sauce, pegedil and sambal belacan. While the meat didn't exactly slide off the bone, it wasn't too dry or overly chewy – it even tasted good without the soy sauce. My only complaint about it would be the size; at RM62, the amount of shortribs was just enough for each in our group to have one, sadly eliminating any possibility of seconds.
With all this talk of meat and chicken, it's easy for the veggie dishes to be forgotten, but you can never go wrong with ordering the pucuk paku goreng (wild fern stir-fried in chilli, garlic, shallots and caramelised coconut). Pucuk paku goreng has always been a favourite of mine, and Songket's didn't disappoint. On the other hand, the kerabu mangga was nothing extraordinary; it merely served its purpose as a salad, and neither displeased nor excited us.
When we finally got round to dessert, we thought we were being practical by ordering Songket's sample platter of all its best desserts, Aneka Pemanis – sago gula Melaka, pandan pudding, durian tiramisu, mango cheese cake and tapai pulut with ice cream. But when the platter arrived, the sample portions were unbelievably tiny, making it an awkward dessert to share in a big group. Portions aside, while the mango cheese cake didn't taste like mango at all, the local desserts fared better. I only wished there was more pandan pudding and sago gula Melaka for me. Maybe next time?
Speaking of next time, my next visit would be only for the shortribs and pandan pudding. I'll bring just one friend too. Syarifah Syazana
Awards
Food Awards 2011, 2012 and 2013

Songket was shortlisted Best Malay in the Time Out KL Food Awards 2011, 2012 and 2013. Our food awards are 100% voted for by the people of KL. This way, we guarantee that popularity and consistent performance is rewarded.
Venue name:
Songket
Contact:
Address:
29, Jalan Yap Kwan Seng
Kuala Lumpur
50450

Opening hours:
Mon-Fri, 12noon-3pm; 6pm-11pm; Sat-Sun, 5pm-11pm