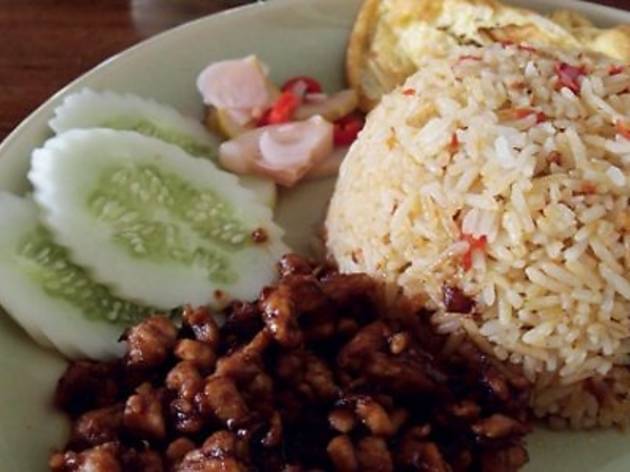 Time Out says
June 2012
I have no idea if the people behind Sri Ayutthaya are Thai themselves. I suspect not. I hope not. Thai food's richness, subtlety, grace and understated power make it among the most challenging for chefs to conquer. The temptation is to substitute the time required for the delicate processes and intricate combinations in favour of slamming spice into any and every dish. Sadly it is a temptation Sri Ayutthaya seems unable to resist.
The sense of disappointment at such shortcuts in a restaurant is particularly strong, as in this case, where you are still pretty penny for what table. Our dinner cost more than RM50 per head even before drinks and for a cuisine replicated at food courts and stalls across the country – not to mention rather extensively in the country to our direct north – I had reasonably high expectations.
High expectations are always dangerous, for reviewer and outlet. And they were raised further as our visit was specifically timed during Songkran to enjoy the special seafood additions to the menu for the festivities. The lobster was unsurprisingly the highlight of the meal, prepared with more pizzazz than I like but leaving enough of the natural flavours that the overriding quality of the crustacean melted in the mouth, driving down through your tastebuds.
Of the à la carte selections, the Tom Yam Phark begged the question what the phark had they done to inject quite so much spice into one bowl of otherwise unspecial soup. The Kai Tom Kathik was also dramatically over-flavoured, the creamy coconut milk fighting with the taste when I wanted them to make a winning combination. Whether this was carelessness, lack of experience or the product of a busy restaurant I couldn't say. I'm not sufficiently motivated to go back and try again to find out. As it was, my mouth felt like it was being pecked by a thousand chickens, their beaks coated in chilli padi.
The ubiquitous green curry chicken was refreshingly different in preparation, which was good. The presentation however was a mess, which was forgivable. More than can be said for the drowning of asparagus in another too-rich, too-spicy sauce. However much time or care is currently put into the balance of flavours and dishes, it doesn't seem to be enough.
It is perhaps telling that the majority of diners in the restaurant were expatriates, or to put it another way, people who live a long way from Thailand. I should say, despite the criticisms above, the food served was satisfying and generally above average. However, when we are so close to the country of its origin and we are in a country where even French and Italian cuisines can be and are reproduced to world-class standards, I can't help but feel justified in both my high expectations and the regret in them being dashed. Matt Bellotti
Details