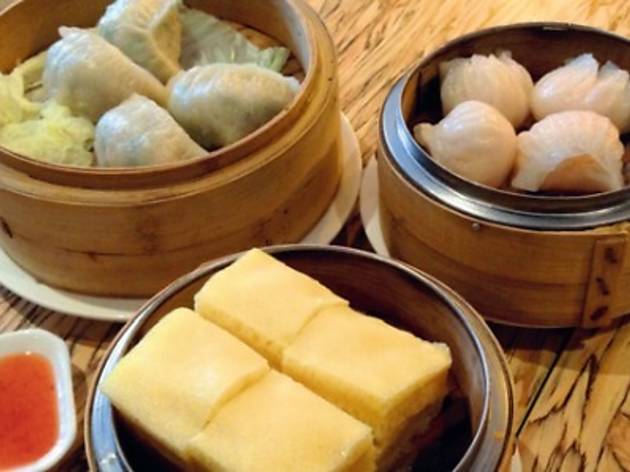 May 2013
There are all kinds of dim sum in this city: from high end morsels to be savoured, down to streetside siu mai you can scoff in the early hours of the morning. But it seems like there's always room for yet another dim sum outlet, and shopping malls in particular continue to spawn them with the assurance that, until the world ends, someone will always be looking for their fix of steamed dumplings.
I was on exactly this kind of mission when I went to Steam Room. It was a lazy Sunday when I passed the restaurant in the rather deserted 1 Mont Kiara Mall. It turned out that this is one of three Steam Room outlets – the others are in Viva Home Mall and Sunway Giza – with Paradigm soon to open a fourth.
Pushing past mental associations of sweaty gyms and men in towels, I found myself in a simple but tastefully decorated restaurant with warm, opulent tones. The menu is extensive; as well as serving dim sum, the restaurant has a range of Chinese dishes. And while many of the traditional dim sum offerings are served here, several have an added twist. For example, the yam puffs contain char siew pork rather than the usual minced pork variety, while alongside the loh mai gai, there is a glutinous rice dish featuring pork rib. In the interests of exploration, we opted for both these house specialities.
I soon learned to distrust the restaurant's own judgment of its star dishes. The glutinous rice tuned out to be tiny, with the rice having been steamed around a single pork rib – an underwhelming sight indeed. The rice was also over salted and the pork itself dry and lacking flavour. The yam puffs were more successful, and my dining partner approved of the char siew filling. I found the yam casing too thick, making the puffs too stodgy, with a greasy aftertaste.
Meanwhile, the fried radish cake arrived in a set of artfully arranged sticks instead of the usual comforting square slab, but this effort with the appearance didn't make up for the disappointing texture. There was not enough bite to the batons and they yielded too easily under the teeth, a result of too much water and not enough starch. The specks of Chinese sausage mixed into the paste – another house touch – did not make up for this.
Luckily, we fared much better with the more traditional steamed dim sum. The har gao was one of the most pleasant surprises of the meal, with a skin that turned out to be silky soft and a tender prawn centre. The Shanghai dumplings were also a hit. Bursting full of herby pork, each dumpling also held some flavoursome soup, like a meatier variation on xiao long bao. This was the standout dish, and left us wanting to try more of the steamed dumplings.
My dining partner and I finished with a sweet steamed cake that was layered with yellow custard. The cake was light and pleasantly spongey, though a little more generosity with the custard would have improved it. It was an apt ending to a meal of mixed feelings, a series of hits and misses.
The steamed dim sum is where the strength of the restaurant lies – as their name would suggest. Avoid their experimental twists and stick to the more traditional fare, unless you enjoy playing dim sum roulette. Ling Low
Venue name:
Steam Room
Contact:
Address:
Mont Kiara Shopping Mall, L1-3A, 1 Jalan Kiara
Kuala Lumpur


You may be interested in: