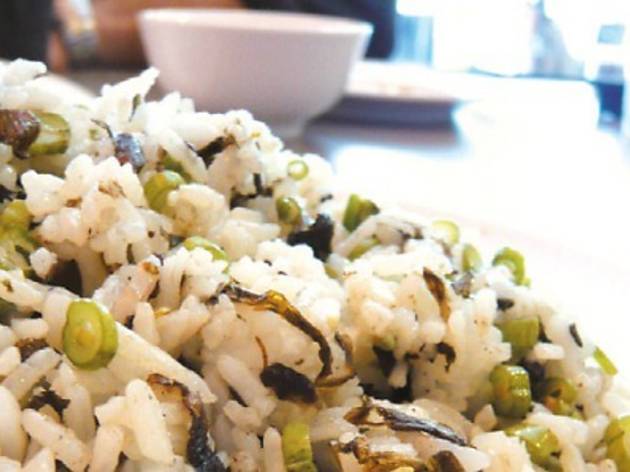 Time Out says
January 2010
The one thing I've never been able to understand about Chinese vegetarian restaurants is why mock meat-made-from-yucky-gluten proliferates the menu. If you're abstaining from meat for religious reasons, doesn't it obviate the mission if everything that's on your plate is made to resemble the single most important item that you're not supposed to eat? Which brings me to the reason why Su Lai Xiang is such a breath of fresh air – although there are some mock meat dishes (consumer demand invariably wins out to a certain extent) on the menu, the food is by and large unusual: flavoursome yet nutritious, and not dripping in oil and sugar or padded to the nines with gluten (all three of which many a Chinese veggie eatery is guilty of).
Maybe I'm reading a bit too much into it but I always believe the décor of a restaurant is indicative of the culinary experience you can expect. At Su Lai Xiang, tables are not crammed together, and the interior is thoughtful and elegant, but it's the food you'll notice first, and hanker after, later.
Oyster mushrooms – the signature dish – are lightly coated with batter then fried so that the mushrooms take precedence. Little chilli padi studs, fried curry leaves and a lightly creamy sauce are the perfect dance companions for this devilishly more-ish dish. And forget what you've been told about rice, you would be doing yourself a grave disservice if you don't order the olive fried rice. It's light, it's fluffy; it's everything fried rice ever dreamt of being.
Running neck and neck in the popularity ratings with the mushrooms is the soya chicken, so named because the fine layers of soya (think mille-feuille in a Chinese vegetarian context) look like delicate pieces of sliced chicken on the plate. The accompanying ginger paste is like the perfect companion: ready to flatter but ultimately knowing its place.
And though I'm loathe to further sing its praises in case it becomes too popular, for what you get – quality food, affable service – it's pretty darn cheap. Sigh. Now the cat's out of the bag. Fay Khoo
Details