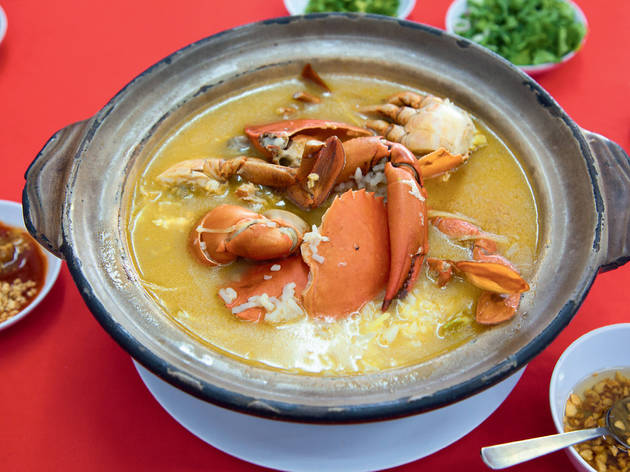 April 2014

With two rival juggernauts in the vicinity, Super Crab Aroma holds up. Along the same row are the immensely popular Restoran Wong Poh and City Star Seafood Restaurant, both of which pull in regulars for crabs and sides from as early as 6pm. Super Crab Aroma is the less applauded player, a linebacker in the company of hawk-eyed quarterbacks. The restaurant's generic signage and clinical fluorescent lighting doesn't improve its chances of attracting first-timers, but the hype surrounding it from various blogs has earned it some attention.
Super Crab's cleverest tactical play is its crab porridge – a gleaming golden soup with soggy rice grains and protruding crab legs. My expectations of a delicate Teochew-style consommé are shattered when the soup arrives dark, cloudy and slopping around the edges. In taste, it is similarly moody with strong ginger notes and an excessive dosage of salt. The crab is disappointingly absent in all of the drama, a sign of too little downtime between crab and stock.
As the sweet and sour crab is often talked about, I ask the flustered waitress if it's wise to order it. She's quick to dismiss the idea and points at the cheese crab, claiming it to be the most popular of all ten cooking styles on offer. I succumb, only to be greeted by some of the best crabs outside of Klang – sweet, fleshy and unmistakably fresh, the hard-shelled Sabah crabs are worthy of graceless sucking. The beige gravy too, is vulgarly delicious – rich, milky and heavily perfumed with curry leaves. Soaked in fried pillow buns, the gravy truly finds itself.
The la la bee hoon and 'four kings' vegetable (petai, winged peas, okra, eggplant) wilt in the shade of the crab through no fault of their own. It's difficult to top crab bathed in a sauce made entirely of milk and butter, although the vegetable dish puts in a good effort with an enjoyable crunch and a tasty stir-fry sambal of chilli and shallots. By the end of the night, the resulting debris on my table is shocking: stained mallets, fragments of crab shell, sauce-soaked napkins and possibly, a chipped tooth or two.
Venue name:
Super Crab Aroma Seafood Restaurant
Contact:
Address:
40 Jalan BM 1/2
Taman Bukit Mayang Emas
Kuala Lumpur
47301

Opening hours:
Closed alternate Mondays, 11am–3pm; 5pm–11pm
You may be interested in: