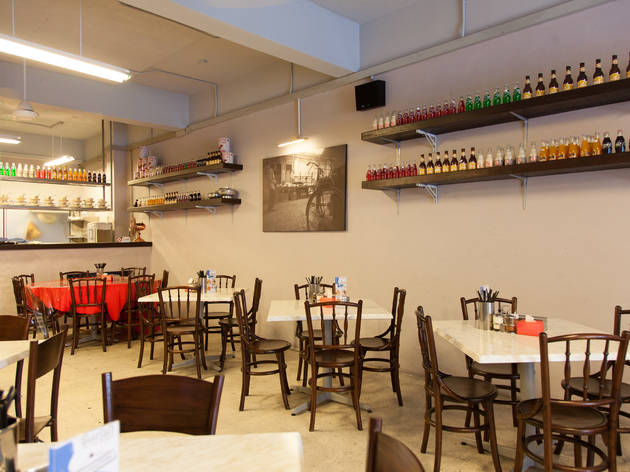 I won't hear protestations to the contrary when I say that good, accessible Thai restaurants have been pretty thin on the ground for some time now. Forget the chain Thai eateries that are ubiquitous to the many malls in the Klang Valley. I'm talking seriously good nosh that reminds you why you always stack on the weight whenever you visit Thailand. Like isolated cries in the wilderness that are gradually being heard however, standalone Thai eateries that are worth their weight in tom yam have been making their mark, and the latest of these is Surisit Thai Kopitiam.
Opened recently by one of the Montien (one of KL's more notable Thai eateries, now sadly defunct) founders, Sita, in collaboration with her two nephews (ergo the eponymous restaurant that is a composite of their three names), Surisit is distinctive not just because the food is good, but also because the menu, happily, includes pork.
The tom yam, for example, is interpreted with braised hocks, and the sparkling interplay between sweet, salty and sour, and the crumbly pork bites lend a refreshing perspective to this usually shrimp dominated soup. And while the awkwardly monikered mun thod gapi may do the heart no favours, consisting as it does of crispy pork fried with shrimp paste and tossed with deep-fried kaffir lime leaves, it is inarguably manna for the palate. Sparingly used, the shrimp paste infuses the meat with a subtle but tangibly more interesting flavour palette, whilst refraining from overpowering the wonderful perfume of the leaves. Go a large serve; it'll save you ordering twice.
In contrast, the phat krapao moo sap, a traditional pairing of minced pork with chilli and Thai basil leaves, was faultless but more than a little lacklustre in comparison with the vibrant tastes of the fried pork. Becoming increasingly more visible in eateries – could it be this year's rocket? – pucuk paku is also represented in Surisit in its most traditional form: a piquant kerabu with prawns and coconut milk to juxtapose the crunchy, clean flavours of the forest fern. It's definitely more-ish and a salubrious alternative to the glass noodles of the yum woon sen. Just one more thing: Don't bypass the belachan fried rice with sweet pork on the side; it's a good reason not to eschew carbs and more than a worthy rival with the fried pork for billing as the star item at this simple, clean and utterly charming kopitiam.
And because it provides all day service with different menus for breakfast, lunch and dinner, missing out won't be a hazard. I know where I'll be next weekend.
Awards
Food Awards 2012

Surisit Thai Kopitiam was shortlisted in the Best Thai category of the Time Out KL Food Awards 2012. Our food awards are 100% voted for by the people of KL. This way, we guarantee that popularity and consistent performance is rewarded.
Food 40

Food 40 is our monthly, definitive guide for where to eat in the Klang Valley. No entry into the Food 40 has provided any Time Out team member with a free meal or other incentive. If you have eaten somewhere that you think should rank amongst KL's top 40, email us and we'll check it out: editor@timeoutkl.com.
Venue name:
Surisit Thai Kopitiam
Contact:
Address:
17 Lorong Rahim Kajai 13
Kuala Lumpur
60000

Opening hours:
Daily, 8am-10.30pm