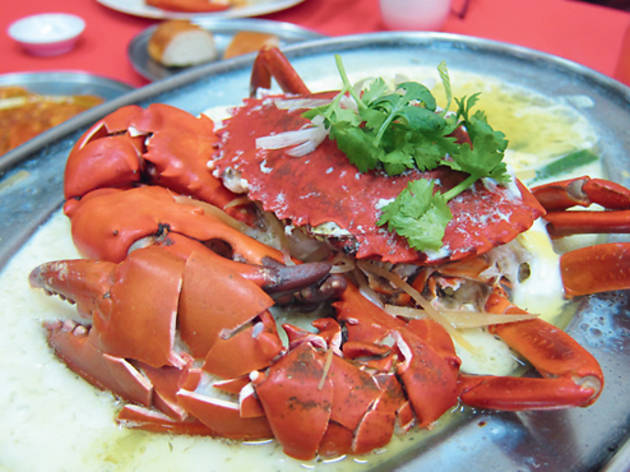 Time Out says
Tai Thong is the kind of restaurant you'd bring your parents on their birthdays – it's reliable, family-friendly and downright homey. At least 15 out of the 20 tables here are swarmed by large clans, huddling together in an enormous table teeming with giant crabs, prawns, steamed chicken as well as caramelised pork ribs so juicy they make the hungry people waiting in line squirm. I've dined here more times than I've eaten at KFC and the restaurant has so far delivered with aplomb… until they served me goopy sizzling tofu and got my orders wrong.

This neighbourhood restaurant is showing its age, where for years the prevailing colour of its grubby walls has been a dispiriting shade of brown, splotchy with grease. The red tablecloths are riddled with holes while the rusty doors sport a weather-beaten patina. But the food here is solid gold. Classic Cantonese dai chow dishes are treated with respect while they stay indicative of the chef's personal style.

Tai Thong's celebrated steamed crab in siu heng wine arrived on a bed of custardy steamed egg, showered with parsley, boasting juicy and firm flesh as if the crustacean had a great leg workout before it hit the steamer. More appealing however, was the robust sweet and sour crab. Half of the restaurant ordered this all-time favourite, and I could almost hear a routine in sync: Customers were cracking the shells away, their fingers knuckle-deep in the vivid sauce, mopping up every drop with fluffy, deep-fried mantao.

No Marmite pork ribs have escaped the kitchen without a liberal drizzle of the sticky-sweet sauce, which lends a candied edge to the crispy pork that'll put you in a pleasant, temporary coma. If you've always had Marmite on toast, this dish will make you want to slather the syrupy yeast extract all over your rice and semi-fatty chunks of pork.

The restaurant's forte undoubtedly leans towards the meat department because my sizzling tofu lost its sizzle, drowning in gravy thick and starchy enough to glue envelopes. Granted, the stir-fry sweet potato leaves had the perfect crunch but they weren't cooked in fu yu (fermented bean curd) even though I'd asked for that twice.

Every restaurant has its bad day, and it may seem cruel to write the experience off as unpleasant since the chef didn't mean to disappoint. But a restaurant can only flourish if it upholds a certain level of consistency while looking after its customers. Few restaurants can pull off the trick of being both decadent and humble – it's definitely comforting to know that there's still a nostalgic, bang-up traditional Chinese restaurant in our midst.
Details