Thai Market Font (Restoran Baan Nok)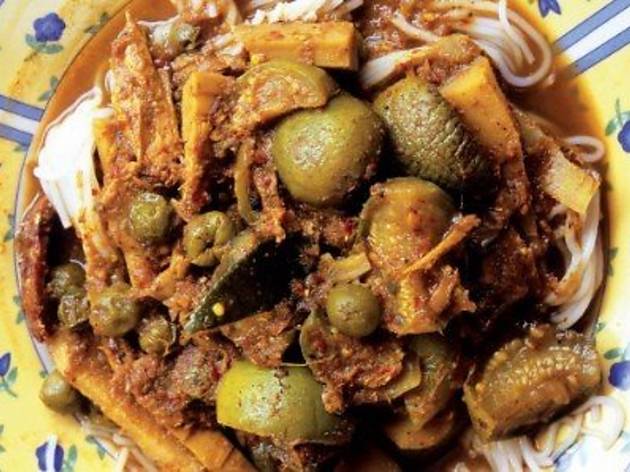 December 2008
This little gem, which sits amidst a cluster of Thai restaurants in Pandan Indah, is a grocery and sundries shop, though its owner did open a proper eatery – which, though dimly lit and poorly air-conditioned does serve fine food - over the store last year. But I, for one, would much rather sate my Thai food cravings downstairs, at a table set up right out front of the shop where, on Sundays only, is also parked a food truck displaying specialities that you're not likely to see at every other Thai restaurant in town.
The wife of Thai Market Font's owner comes from Chiang Rai; she prepares primarily northern specialties and she's a darned fine cook. Northern Thai cuisine incorporates less coconut milk than the central Thai dishes (like green curry chicken) that most of us are used to. It's got less of a pronounced sour element, often includes a slightly bitter profile, and can be hot as hell. It's Thailand's soul food, homely and satisfying.

You might start off with comfortingly familiar somtam (green papaya salad) pounded with the usual dried shrimp (somtam Thai), pickled crab, or bplaa raa, super-fermented fish sauce that has the pungency of belacan. Always on offer are a couple of northern-style nam prik, or 'dips' to eat with a selection of fresh herbs and vegetables: Italian ragu-like nam prik ong, made with ground pork and tomatoes, is mild while nam prik gapi, made with fresh bird chillies, garlic, and Thai shrimp paste, packs a pungently powerful punch.
Kanom jeen (chewy rice vermicelli) are topped with Chiang Rai-native and coconut milk-free nam ngiaow, a tomatoey gravy boasting tender shreds of stewed pork; gaeng tai bplaa (spicy, fish-flavoured, and soured with fermented bamboo shoots); and nam yaa, a slightly sweet coconut milk-and-groundfish curry.
There's always grilled sausages (Chiang Mai-style spicy or sai oua, slightly soured pork sausages made with rice) to eat with shards of ginger, coriander leaves, and sticky rice, and gaeng hanglay, a thin curry made with bone-in chicken, tiny pea eggplants, and herbs. Font's hawmawk, steamed fish and coconut-milk mousse reminiscent of Penang style otak-otak is chunky and packed with krachai (finger-like Chinese keys, a type of ginger).

Most of Thai Font's customers are Thai, so be forewarned: if you ask for your somtam to be made 'spicy' be prepared for a furnace-like blast of heat. While the restaurant's food is equally good, there's lots to be said for the point-and-shoot nature of the truck, not the least of which is that choosing from a display rather than a menu is likely to lead to new discoveries. When it comes to northern Thai food, which sees poor representation in the Klang Valley's Thai restaurants, that can't be a bad thing. Robyn Eckhardt
Venue name:
Thai Market Font (Restoran Baan Nok)
Address:
Thai Market Font, 43A Jalan Pandan Indah 4/6B, Pandan Indah, 55100
Kuala Lumpur


Opening hours:
Open daily, 9am-3pm & 6pm-12midnight
You may be interested in: