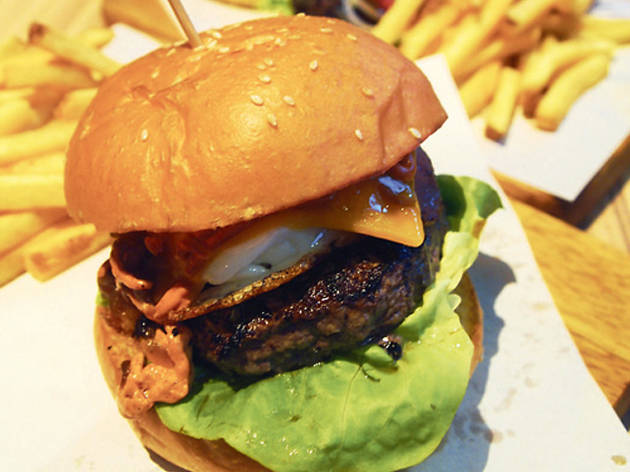 Time Out says
It's certainly not a stretch to say that KL's burger renaissance of 2012 has grinded to an unceremonious halt. With their inventive burgers and melt-in-your-mouth patties, the pioneers at myBurgerLab have blazed a trail that few have been able to follow since the Seapark darling opened amid rave reviews in July 2012. Many pretenders to the gourmet burger crown have come and gone without a whimper, but Section 17's The Grind Burger Bar continues to be a fixture on a highly competitive strip that includes mamak powerhouse Kanna Curry House and café du jour The Humble Pie Co.

Although The Grind was a relatively late entry into the gourmet burger game, its debut last March was greeted with much excitement – here was a burger joint that was leaning towards the porcine side of things, a unique prospect at the time. The Grind's popularity has clearly not diminished, as the dimly lit, spacious restaurant with exposed brick walls was a hive of activity when we arrived on a rainy Friday evening craving sloppy burgers.

In terms of entrees, The Grind's chilli cheese pork and corn chips rank among the most decadent we've had recently. Accompanied by a side of run-of-the-mill corn chips, the overly greasy slow-cooked chilli, packed with ground pork and topped with melted cheddar, was a sign of the food to come. The ensuing Grind House Burger was all substance, pairing a tender, flaky beef patty with bacon, fried egg, caramelised onions and punchy pink mayo.

Next up was the neatly named Lord of the Rings. In the grand tradition of Bobby Flay's Cheyenne Burger, it combined a barbeque mayo-drizzled pork patty with bacon and onion rings. The onion rings were in theory meant to add a new textural dimension to the dish, but ours were sadly left in the fryer for a tad too long, resulting in an add-on that was more cardboard than crunch.

By burger bar standards, The Grind has a laudably diverse menu, with such wild cards as Swedish meatballs, a pork bratwurstanchored hot dog dubbed Big Black Dog, and spaghetti Bolognese. The welcome inclusion of milkshakes adds another feather to The Grind's cap, but our Nutella Fella, while decent, didn't quite hit the delicate balance between creaminess and sweetness like its glorious counterparts at Johnny Rockets and near-namesake Daily Grind – and that's emblematic of The Grind's challenge.

You could do worse than dig into one of The Grind's many burger offerings (there are vegetarian, teriyaki chicken and fish iterations available as well), but it lacks the je ne sais quoi to set it apart from the other burger establishments that have been flooding our streets in recent years. To that end, myBurgerLab's highly coveted throne remains safe... for now.
Details