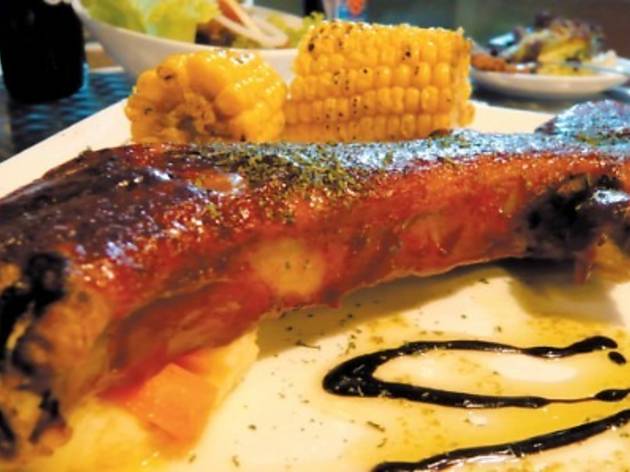 Sanbanto's porcine menu should come as no surprise, since the proprietors are veterans in the pork business. It also explains the disproportionately generous amount of space devoted to the meat counter (the eatery doubles as a butcher). The glass-fronted kitchen is equally expansive and I imagine that's because the cooking takes pride of place, since the hormone-free premium pork is also cold-chain treated, thereby assuring diners a welcome absence of the horridly piggy stench that besets other pork not privileged enough to be stored between 0-4˚C whilst awaiting their turn in the frying pan.

A big plus point: the staff had taken the initiative to set aside a table for us despite a packed service because we'd called and asked for directions (but had not made a booking). On the downside, the food we ordered all came in one massive piggy avalanche. When portions are as sizeable as the ones at Sanbanto, it can be somewhat overwhelming.

Nevertheless, for novices to the food and beverage industry, Sanbanto's not doing too badly at all. While not terribly innovative, the menu is by and large competent and the quality of meat, as especially evidenced by the supremely tender giant BBQ ribs, is sparkling clear.

The sweetness of flesh that hasn't been adulterated by growth hormones penetrates even the treacly thick barbecue sauce. Which brings me to my only grievance: having all the delicacy of a mutton-fisted caress, the sauces at Sanbanto cannot be honestly described as subtle; the surfeit of sweetness and saltiness ensures that a lot is lost in translation and prevents the meat from really having its moment in the sun. A little less time on the cooker for the pork chops, 14 fewer scrapes of the cheese grater for the carbonara, and you'd get honest-to-goodness dishes that will bowl over even the most fastidious diner.

Nevertheless, for what it is: a premium butcher which doubles as a showroom for an unassuming eatery in the 'burbs, Sanbanto more than makes the grade. This is definitely one brand to watch out for.
Venue name:
The Pork Place (Sanbanto Puchong)
Contact:
Address:
IOI Boulevard
Jalan Kenari 7
Bandar Puchong Jaya
Selangor
47100

Opening hours:
Open daily except Mon
You may be interested in: