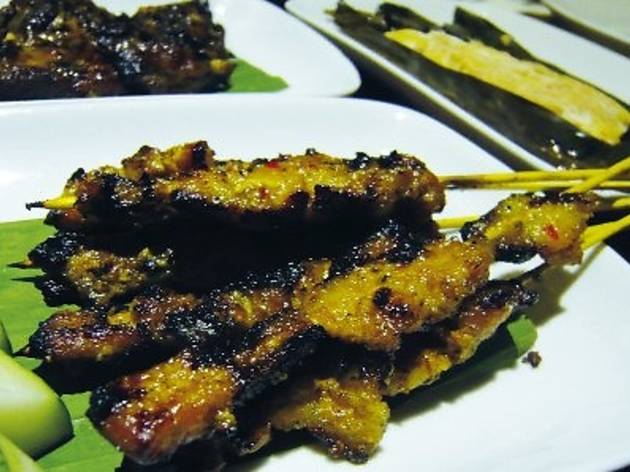 Time Out says
August 2011

There are few things worth braving the epic crawl from KL city out to Kota Damansara during rush hour, and pork satay has to be one of them. The menu of this Balinese restaurant divides itself according to meat: pork, duck, chicken, fish, prawn, and wouldn't you know it, we went straight for the pork. The pork satay appetiser came heavily recommended by the chef who took our order (the words 'strongly' and 'urge' were both used). We were similarly nudged towards the signature Es timun drink, which proved to be a sweet cucumber juice with a tinge of limey bitterness, and full of crunchy cucumber bits.
Our dishes all arrived at once, even the starter, but we were hungry enough not to care. The satay was lean and leaning towards the chewy side, but with a depth of flavour not found in roadside satay. The meat was subtly sour and spicy, and as my dining partner said with a shrug, 'It's satay and it's pork. What's not to love?'
The grilled pork ribs, though smaller than expected, were fork-tender with a sweet, smokey flavour. We also chose a grilled tuna in 'zesty coconut milk' wrapped in a banana leaf, looking suspiciously like otak-otak but with a firmer fish texture and, as promised, fragrant with lemak. The stir-fried long beans proved to be a mistake; there was nothing wrong with them (save for a drop too much oil) but they were an entirely forgettable experience. The whole meal was held together by the aromatic nasi kuning, which came with a dry sambal of onion and chilli that we liberally applied to all the dishes.
If there was one misstep that night, it was the service. We lingered at the door when we entered, waiting for the solitary member of staff at the other end of the room to notice us. And while they were happy to take our order and make recommendations, after delivering our food we were promptly forgotten. Our plates weren't cleared until we stood up to go, which meant a half hour of talking across a table full of dirty dishes – we had to rearrange the plates to make space to sign the bill (which we'd asked for twice). By virtue of those pork ribs, I'm inclined to forgive them, but I'd also start looking for more alert staff. Emma Chong
Details