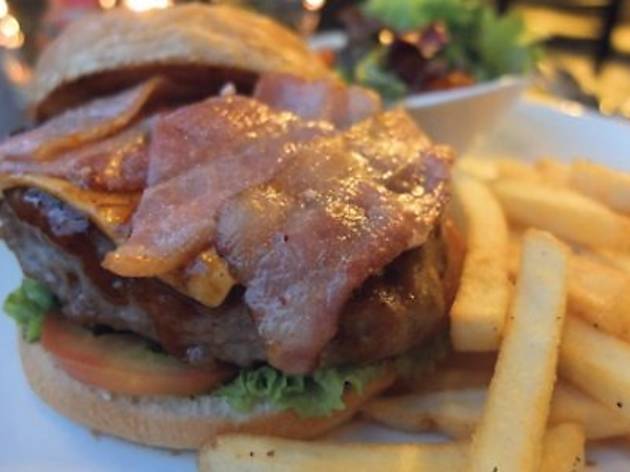 February 2013
Will KL's hunger for pork ever be satisfied? The number of new porky eateries opening suggests not. The pig scene's latest addition is Three Little Pigs & the Big Bad Wolf, taking over a prime space in Bangsar Village. While we can't really tell where Three Little Pigs ends and the Big Bad Wolf begins (it seems to be a day/night thing), the restaurant is a low-key space favouring a jazz soundtrack, pink cushions, and plenty of bacon.
On the menu there's a brief, cheeky disclaimer that food arrives as it's ready, 'without prejudice'. Which, to my mind, seems to make a virtue out of necessity – if (most) other restaurants can manage to serve starters at one time and mains at another, what's stopping Three Little Pigs' chefs from doing the same? To wit: at our table, a soup and two pastas arrive at the same time, followed ten minutes later by the second starter, and five minutes after that the final two mains.
But back to the food. The early arriving potato and leek soup was near perfect – creamy and velvety, backed by the sweetness of leek and crowned with a peppering of crunchy bacon bits and a (very) subtle sprinkle of paprika. Swift on the soup's heels came the two pastas, and of the two, The Wolf's Favourite warrants the best mention. In a nation of carbonaras tainted with cream, The Wolf's Favourite stands out for being lactose-free – just a silky egg sauce and plenty of real, smoky bacon. It's an impeccable dish, and reason enough to visit Three Little Pigs. Next to it the grilled pork pesto, though worthy, doesn't shine. The grilled lean pork slices topping the pasta err towards toughness, and the pesto is fresh but undersalted.
Barring the excellent garlic roast pork starter that arrives next – slices of roast pork coated in a sticky, caramelised sauce – it's pretty much downhill from here. The shepherd's pie is a nondescript dish of what appears to be pork bolognaise covered by a mound of pasty mashed potato. The golden rule of any shepherd's pie is that it should be a golden brown from the oven, but Three Little Pigs' looks like it hasn't seen so much as the light through an oven's door. (And not to be pedantic, but shouldn't it be pig herd's pie?)
Still, the accompanying chips are good. The Big Bad Burger is towering and impressive, but broken down into its components is a little disappointing. The patty itself is juicy but with the bounce of a pork ball, rather than the bite of a burger. The hickory smoked barbeque sauce has a faintly medicinal taste, and the cheese is lamentably plastic. Still, the lingering thought in my mind as I pay the bill is of The Wolf's Favourite, and how soon it would be respectable to return for another helping. Emma Chong
Venue name:
Three Little Pigs & The Big Bad Wolf
Contact:
Address:
Ground Floor
Bangsar Village
1 Jalan Telawi 1
Kuala Lumpur
59100

Opening hours:
Daily, 9am-11pm
You may be interested in: