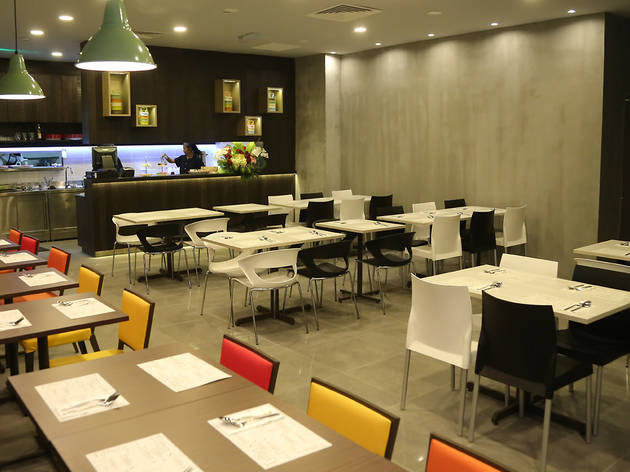 Time Out says
Erawan is the benchmark of Thai food in KL and co-owner Chef Korn's culinary prowess is widely known. But with steep pricing and a strict reservation-only policy (because you have to pre-order your food), Erawan may not be that accessible to the masses.

And that's why we think Tiffin by Chef Korn, Erawan's offshoot that opened last year, is a smart move. Tiffin works just like a luxury fashion label's diffusion line; compared to Erawan's modern and creative Thai food (often with decadent ingredients), Tiffin is comparatively more accessible in location, price and food, even though the menu is a pork-heavy one. But instead of giving you watered down versions of Erawan's exemplary dishes, Tiffin decided to do a complete 180 by offering Thai homecooking, featuring Chef Korn's family recipes. These are classic Thai dishes that we are familiar with; they don't stray far from tradition but they are well executed.

The appetiser Fire Balls is a success story of the authenticity and hominess that Tiffin wants to recreate through its menu. These minced pork balls, seasoned with dried chilli, coriander and shallots, are lavished with sharp, appetising flavours. Limey, salty and tangy, it was a joy to eat, and it reminded me of Bangkok's famous street food.

Tiffin's signature clear tom yam is another standout. It satisfies all expectations, it's got a good kick, and it's generous with ingredients. I counted nine plump prawns on top of the squid and large pieces of oyster mushrooms. Extra points for serving additional cili padi and lime wedges on the side. And the rice, I must say, was exceptional. It was firm, aromatic and just the slightest bit sticky – it was so good I could eat it on its own.

The ensuing dishes, while didn't quite hit the same high, still made for a largely enjoyable meal. The crispy pork stir fried with Thai basil would have picked up the sauce better if minced meat was used instead (as it is commonly served elsewhere) but the roast pork chunks had the perfect fat to lean meat ratio and the crackling on top provided a good crunch. Palm sugar is used in the green curry, as it should, but in this case, it felt excessive. The overriding sweetness almost obliterated the coconut-y fragrance and the light heat from the green chilli.

For fans of Erawan, no doubt you'll miss the older restaurant's mastery and boldness at Tiffin. But discount that and you'd find Tiffin to be a perfectly able restaurant in its own right. At least with Tiffin's rice and noodle sets (from RM19.80; all served in the restaurant's namesake tiffin carriers complete with appetiser and salad), you can come eat here more regularly than you would have at Erawan.
Details